Kiyooka, Roy (1926-94)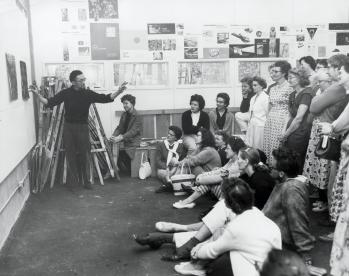 Roy Kiyooka, who was both a poet and artist, was born the son of immigrant Japanese parents in Moose Jaw, Saskatchewan, and died in Vancouver, British Columbia. Kiyooka spent most of his adolescence in a multi-ethnic neighbourhood in east Calgary, where he soon felt its Anglo-Canadian discourse. Despite the influence of the traumatizing years during World War II and the infamous evacuation of people of Japanese origin in British Columbia, his interest in art was strong. He managed to study at the Institute of Technology and at the Alberta College of Art from 1946 to 1949, and later (1955– 56) made his way to the Instituto San Miguel de Allende in Mexico. His newfound artistic fame helped him achieve a position at the Regina College School of Art, where he was the third instructor to be appointed, following Kenneth Lochhead and Arthur McKay. Also involved at the college were Douglas Morton, Ted Godwin, Ronald Bloore, and Clifford Wiens. These artists gravitated towards each other, and shared the feeling of Regina's physical isolation from any artistic centre. Their awareness led to the expansion of the Emma Lake Workshop by inviting major artists as instructors. Kiyooka was one of the leading figures of this workshop and had great influence over decision making. The very successful 1959 workshop, which introduced Abstract Expressionist painting to Saskatchewan, was a crucial decision made by Kiyooka in conjunction with his colleagues. In 1960, Kiyooka's new position at the Vancouver School of Art (Emily Carr College of Art and Design) required him to leave Regina, and he was not included in the May Show. Later, the work of the five painters (Lochhead, McKay, Morton, Godwin and Bloore) from this show traveled nationally, and they became known as the Regina Five. Kiyooka's name does not appear as a member of the Regina Five, nor is his role in the Emma Lake Workshop mentioned; however, his contribution in the Regina art community was substantial.
In the late 1960s, he moved away from his familiar medium of painting and became involved in poetry, photography, video, film, and music. His experience in Vancouver in the mid-1970s influenced his interest in the Japanese Redress movement, as well as in issues of Asian-Canadian identity, which is evident from his art productions of this period. In 1978, Kiyooka was awarded the Order of Canada for his achievements as a painter as well as for his success as a teacher. Although he had great influence in the art community in Saskatchewan, he always felt that he was never given the recognition he deserved.
Machiko Oya, Gail Chin