King, Andrew (1885-1981)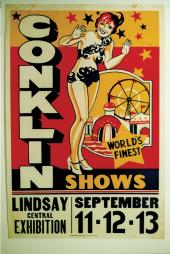 During the heyday of travelling entertainment circuits, Andrew King's colourful promotional posters or show prints announced the coming of theatrical companies, circuses, and carnivals to communities across North America. Born in Winnipeg on October 23, 1885, King moved to Rouleau, Saskatchewan in 1909 where he established the Rouleau Enterprise. In 1912, he developed a show print business as a sideline and quickly became a major producer of posters for circuits that criss-crossed the continent. King's mastery of wood block printing and his willingness to experiment with the process gave his posters a simple yet dynamic and colourful design.
King named his concern Enterprise Show Print and its customers included several of the era's most recognizable entertainment companies: Conklin and Garrett, Odyson Circus, Royal Canadian Shows, and Terrell Jacobs Circus. The company also designed and printed posters for rodeos, sports days, thrill shows, agricultural fairs, and travelling theatrical companies. In addition to producing the standard 24-inch by 42-inch one-sheet print, King combined several sheets into billboards that were pasted onto barns or empty buildings. Using vibrant colours and larger-than-life shapes, they could be easily identified from street distances.
In 1944, King relocated his business to Estevan, purchased the town's newspaper, The Estevan Mercury, and renamed the poster business King Show Print. The latter concern continued to thrive as King experimented with printing processes other than wood block. In 1958, The Estevan Mercury was purchased by interests in Liverpool, England who continued to publish the newspaper but disbanded King Show Print. In recognition of his contributions to Canadian printing history, King was honoured with a permanent display of his work in Massey College Library at the University of Toronto. Andrew King died in Wilber, Nebraska on November 13, 1981.
Further Reading
Dunlop Art Gallery. 1987. The Big Show!: Andrew King's Show Prints, 1919–1958. Regina, SK: Dunlop Art Gallery; King, Andrew. 1970. Pen, Paper & Printing Ink. Saskatoon, SK: Western Producer Prairie Book; 1981. "Pioneer Newspaperman Dies at 96." Regina Leader-Post (November 16); Stacey, Robert H. 1979. The Canadian Poster Book: 100 Years of the Poster in Canada. Toronto: Methuen.