Katz, Leon (1909-2004)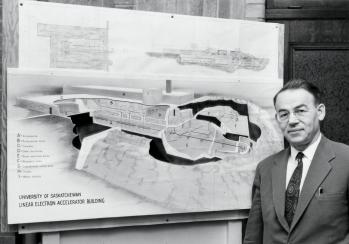 Born in Poland in on August 9, 1909, Leon Katz immigrated to Ontario, Canada with his parents. He completed his BSc and MSc degrees at Queen's University, and received a PhD from the California Institute of Technology. He worked at the Westinghouse Electric Company, Pittsburgh, before moving to the University of Saskatchewan in 1946. He collaborated with Drs. Haslam and Jones in bringing a 25 MeV betatron to Saskatchewan in 1948. This machine served as the first radiation therapy facility in the province to treat cancer patients, and also as a nuclear physics tool. Katz was a multidisciplinarian - engineer, nuclear and accelerator physicist, as well as radar and chaos theory specialist. He was instrumental in building the Linear Accelerator Laboratory, the predecessor of the Canadian Light Source (CLS), and served as its founding director from 1961 to 1975.
Katz also served on several national organizations. He was a member of the Science Council of Canada (1966-72), President of the Canadian Association of Physicists (1973-74), and member of the Council of Trustees of the Institute for Research on Public Policy (1974-86). After his retirement from the University of Saskatchewan, he served as director of the science secretariat of the government of Saskatchewan (1975-80), and as a member of several councils. He was elected Fellow of the Royal Society of Canada (1952) and Fellow of the American Physical Society (1966); awarded an honorary Doctor of Science degree by the University of Saskatchewan (1990); and appointed Officer of the Order of Canada (1974). Finally, Katz received the Prime of Life Achievement Award, University of Saskatchewan Retirees Association, and the Rotary Golden Wheel Award for Excellence (2000). He died on March 1, 2004.
Chary Rangacharyulu