Kaldor, Connie (1953-)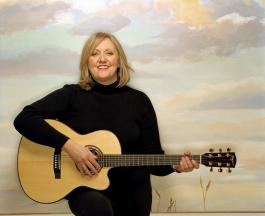 Connie (née Isabelle) Kaldor is a singer-songwriter known for her passionate and entertaining performances, wildly funny one moment and deeply personal the next. Kaldor's entire family was musically active. She was born in Regina and sang in the Lutheran church where her father conducted the choir. She initially earned a theatre degree from the University of Alberta in 1976, and joined alternative theatre groups including Toronto's Theatre Passe Muraille; but by 1979 she realized that she missed making music, and set out on the folk music circuit, accompanying herself on guitar and piano. She formed her own independent record label, now known as Coyote Entertainment, in 1981, and soon became a recognized part of the Canadian folk scene. Her ten albums stretch from One of These Days (1981) to Vinyl Songbook (2003). The title track from Wood River (1992) is considered by many to be the quintessential Saskatchewan song. Other notable prairie-themed recordings include Saskatoon Moon , Hymn for Pincher Creek , Harsh and Unforgiving , and Maria's Place/Batoche . A versatile performer, Kaldor was nominated for a Juno Award as Most Promising Female Vocalist in 1984, and won the Juno for Best Children's Album in 1989 for Lullaby Berceuse , a collaboration with children's entertainer Carmen Campagne. Her 2000 album Love Is A Truck was also nominated. She has written music for both dance and theatre productions, and created the prairie musical Dust and Dreams , which premiered in Rosthern in 1996. Kaldor co-wrote and performed the theme song for the animated television show based on Lynn Johnston's popular comic strip, For Better or for Worse , for the Teletoon network in 2000. She wrote the story and songs for A Duck in New York City (2003), a storybook-CD which received a Juno Award. This was followed in 2005 by another Juno for A Poodle in Paris . She was named a Member of the Order of Canada for her achievements in folk singing and writing in 2006.
In 2004, Kaldor was joined by some of her musical friends in Connie Kaldor @ Wood River Hall, a thirteen-part television series on Vision TV. Her wicked humour and trained theatrical performer's sense have delighted her many loyal fans in small and large communities and in the major folk festivals all across Canada and the United States, as well as in India, China, and Europe. She is married to musician Paul Campagne; they live in Montreal with their two sons.
Richard Belford