Johnson, Wilbert Earl (1917-2003)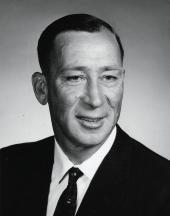 Born in Grey County, Ontario, on January 2, 1917, Earl Johnson took his primary and secondary education at Flesherton, Ontario. Following service overseas with the Canadian Army, he obtained a BSc in Agriculture in 1949, majoring in chemistry at the Ontario Agricultural College, Guelph. After graduating from the University of Saskatchewan with an MSc in Agriculture in 1951, specializing in soils, he was appointed soils specialist with the Saskatchewan Department of Agriculture. He travelled the province discussing tillage methods, wind and water erosion, and control of soil organic matter, and providing fertilizer recommendations from the Saskatchewan Advisory Fertilizer Council. Following retirement in 1978, he continued providing advice on soils as a part-time consultant; the general level of farm practice in Saskatchewan was raised significantly as a result of his studies and extension work.
Earl Johnson served as president of the Saskatchewan Institute of Agrologists (1963-64) and vice-president of the Agricultural Institute of Canada (1965-66). He participated in sessions of the International Soil Science Congress in Australia, New Zealand, the United States, and Scotland. In 1973 he was elected Fellow of the Canadian Society of Soil Science. In 1975 he received the Agronomy Merit Award presented by Western Co-operative Fertilizers. In 1977 the Saskatchewan Institute of Agrologists conferred on him its Distinguished Agrologist award. In 1978 he was made an honorary life member of the Agricultural Institute of Canada, and he was inducted into the Saskatchewan Agricultural Hall of Fame in 1989. He died in Regina on April 14, 2003.
Gregory P. Marchildon