Ipsco Inc.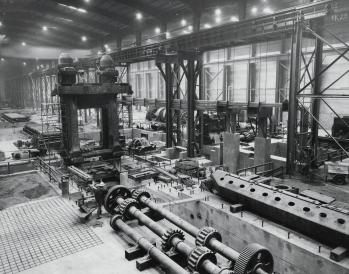 The company known today as "IPSCO Inc.," one of the world's leading producers of steel plate and pipe, began its corporate life in Regina, Saskatchewan on July 13, 1956, as "Prairie Pipe Manufacturing Company Ltd." It was founded by a group of western Canadian businessmen led by J.W. (Bill) Sharp, the company's first president. The provincial government had completed an extensive amount of development work on a potential steel pipe plant that they had been pitching to German and American businessmen. When the foreign investors lost interest, Bill Sharp was asked to take up the project in May 1956. By mid-July his new company had been incorporated, with plans to build a small-diameter pipe mill primarily to serve the Saskatchewan market for welded line pipe. The project received no government subsidies and no loan guarantees, but as an incentive the government-owned Saskatchewan Power Corporation agreed to purchase all its tubular requirements from Prairie Pipe between 1957 and 1960, and one-half of its needs for several years thereafter.
Prairie Pipe was successful from the start, and for a while its stock traded on the Winnipeg stock exchange. Some of its backers believed, however, that it would need its own steel supply to be successful: consequently, in 1957 many of the original pipe company investors formed a new enterprise named "Interprovincial Steel Corporation" and proceeded to build a small steel mill on property adjacent to Prairie Pipe, supported in this case by provincial government-backed loan guarantees. While the pipe company's success continued, the steel company ran into financial difficulties, and in 1959 Prairie Pipe purchased all the assets of Interprovincial Steel Corporation, which consisted of a partially built steel mill and significant liabilities. The merger of the two businesses resulted in the government of Saskatchewan becoming a minor shareholder in the enlarged company (this interest was disposed of in the mid-1980s). Prairie Pipe changed its name to "Interprovincial Steel and Pipe Corporation," and in 1960 began production of steel; the company soon came to be known as "IPSCO," and in 1984 this became its formal name.
By the mid-1960s Bill Sharp was no longer actively involved in the day-to-day business, and in 1965 Jack Turvey was made president. He and his successor, Jim Maclennan, ran IPSCO from the early 1960s until 1982, during which time the company became the major producer of pipe and steel in western Canada through a combination of its own internal growth (four new furnaces, a new rolling mill, and major large-diameter pipe capacity using a new and innovative "spiral pipe" technology from Germany) and the purchase of various pipe mills (Canadian Phoenix Steel and Pipe Ltd. mills in Edmonton, Alberta and Port Moody, BC, as well as a number of smaller manufacturing facilities in the three western provinces). In 1982 Roger Phillips succeeded Jim Maclennan as president and CEO. In 1981, the company had produced 389,000 ingot tons of steel; when Phillips retired almost twenty years later, the company's steel-making capacity had reached 3.5 million tons. A number of developments contributed to growth. The first was development of a continuous caster and reheat furnace at the Regina steel mill, which radically improved the quality and capacity of the steelworks. Subsequent to that, the company purchased a number of downstream facilities (primarily in the United States) to provide markets for steel from the expanded Regina facility. In the early 1990s, the company began to build a revolutionary new plate mill in the United States, incorporating much of the technology developed in Regina with some of the ideas for thinner slab casters and in-line production which had spawned the mini-mill sheet revolution in the US; this new plate mill enabled IPSCO to improve plate product at a significantly lower cost. The first such mill was built between 1994 and 1997 in Iowa, and a second twin mill was erected between 1999 and 2001 in Alabama.
When the company began this expansion, Stelco, US Steel and Bethlehem Steel were dominant forces and major suppliers of plate steel in the North American steel industry. By 2004, the first two had vacated the plate market and the third had gone bankrupt, although its facilities were still in production under a different owner. Over the same period, IPSCO became the premier supplier of plate in the North American steel industry. To round out the company's steel processing facilities, new cut-to-length and temper lines were installed in new manufacturing plants in Toronto and Houston, and upgraded processing facilities were added in Regina and Surrey. During this growth phase, the company expanded its tubular facilities with a new plant in Blythville, Arkansas, and upgraded facilities at several other locations in both Canada and the United States. At the turn of the century, most of IPSCO's assets and customers were located in the US, leading the company to establish its operational headquarters in the suburbs of Chicago. However, IPSCO remains a Canadian company, with its registered office and significant manufacturing facilities in Regina. In early 2002, David Sutherland, a native of Moose Jaw, assumed the role of president and CEO. IPSCO's shares in 2004 were widely held and traded on both the Toronto and New York Stock Exchanges.
John Comrie, Roger Phillips