Hammer, Ulrich Theodore (1924-)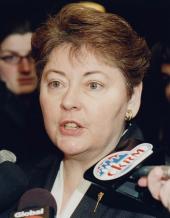 Born in Maple Creek in 1924, Ted Hammer engaged in farming and ranching activities with his father and obtained an MSc at the University of Montana in 1959. During the spring and summer of 1959 he worked for the Saskatchewan Department of Natural Resources doing a limnological study of Buffalo Pound Lake, with an emphasis on fish populations. Over the next few years he researched blue-green algae at the University of Saskatchewan, where he was awarded a PhD in 1963. He was the first to show that blue-green algae grow more abundantly as phosphorus increases; as a result of these studies, the sewage treatment plant in Regina began to remove phosphorus from sewage effluent passing into the Qu'Appelle River system. During this time, Hammer was involved in eutrophication problems and gave public and scientific presentations worldwide on the harmful effects of eutrophication and pollution. He organized the Second International Saline Lakes Conference, which was held in Saskatchewan in 1982. In 1984 he reviewed worldwide saline lake literature, published in many languages and going back to the early 1900s. The comprehensive review volume published in 1986 established Hammer as an international authority on world saline lakes.
Ted Hammer acquired many honours during his career. The positions he held include the following: chairman, Advisory Committee on the Algae Problem in the Qu'Appelle River Basin, 1963-68; president, Canadian Society of Fishery and Wildlife Biologists, Saskatchewan Branch, 1963-64; chairman of the Saskatchewan Water Studies Institute from 1967-69. He was a member of the Canadian International Biological Program Committee on Freshwater (IBP-PF), National Research Council, 1968-73; he was also Saskatchewan Co-Chairman, International Biological Program Committee on Conservation of Terrestrial Ecosystems (IBP-CT), 1968-73. He retired from teaching in 1991.
Jeff Hudson