Hai Duc Buddhist Pagoda, Regina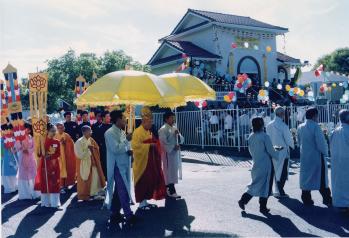 Hai Duc Buddhist Pagoda is a Mahayana Buddhist temple. The first one was established in 1990 when there were about twenty people from Vietnam in the Regina area - refugees from the Vietnam War. In 1996 they built a new temple, and now about 200 people come for the most important ceremonies, most of them of Vietnamese or Chinese background. There is no monk staying in the temple on a regular basis. Hai Duc Buddhist Pagoda plays an important role in the community: it is a religious centre where believers can celebrate Buddhist holidays; it is also a cultural centre where people celebrate various festivals. The temple plays an important role for the families who come here to remember dead ancestors; and the leader of the temple offers special prayers for the recently diseased before or after the funeral during Sunday services.
The language used for prayers and chanting is Vietnamese; the Buddhist texts used are in Vietnamese or Chinese. The disciples of the Hai Duc Buddhist Pagoda are vegetarians. Every Sunday after the rituals, they share the food brought in by the members: it is the time to share their religious feelings and their life stories as well. The members place flowers and food in front of the statues of the Buddha, Bodhisattva Guan-yin, and Ksitigarbha; they also offer some food to the dead ancestors of their families. Besides these communal activities, individuals can practice by themselves. Even though there is no full-time monk, there are some devoted disciples who have become the organizers and administrators of the temple. Every year, this temple shares some activities with others in Saskatoon, providing spiritual support to people from Vietnam, China, and other Asian countries.
Yuan Ren