Gustin, Lyell (1895-1988)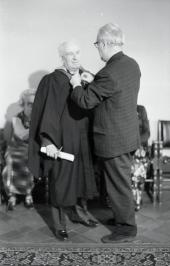 Pianist, teacher and adjudicator, Lyell Gustin was born on May 31, 1895 in Fitch Bay, Quebec. In 1912, he graduated with the highest marks in Canada from Stanstead Wesleyan College. He moved with his parents to Saskatoon, where for four years he studied piano with Blanche St. John-Baker. He then went to Chicago to study with Canadian-born Jeanette Durno, and on to London and New York. In 1920, he returned to Saskatoon to establish the Lyell Gustin Piano Studio. For over sixty years he taught individuals, held monthly interpretation classes, monthly soirées, ensemble rehearsals, special programs, and social events; and for thirty years he instructed his own summer schools.
In 1924 Gustin founded the Saskatoon Musical Art Club, and in 1930 he was a founding member of the Saskatchewan Registered Music Teachers Association. He served as president of the Canadian Federation of Music Teachers (CFMT) from 1941 to 1946, during which time he established the Young Artists Series. In 1967, he received the CFMT centennial citation for outstanding teaching. Gustin served as examiner for the Toronto Conservatory of Music (1944-70), lectured at Regina College (1936-47), and occasionally at the University of Saskatchewan and the Royal Conservatory of Music summer schools. He was chairman of the music committee of the Saskatchewan Arts Board (1952-64). In 1975, CFQC-TV broadcast a two-part documentary, A Man and His Music; and in 1976, CBC radio presented a documentary on his life and work. Many of his former pupils have acquired national and international reputations as concert pianists.
Gustin received many honours, including the University of Alberta National Music Award (1955) and the Canadian Music Council Medal (1973). He was an honorary Fellow of Trinity College, London (1978), and received the Canadian Council of the Arts Diplôme d'honneur (1983). He was also awarded an honorary degree from the University of Saskatchewan (1969), as well as the Saskatchewan Order of Merit (1986). He died on February 7, 1988.
Isabelle M. Mills