Goulet, Joanne (1935-)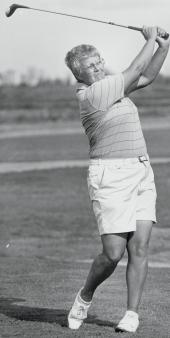 For over a half-century, Joanne Goulet has been a fixture of Saskatchewan amateur golf. Born on May 7, 1935, she started golfing at age 14; since then, she has won dozens of local, national, and international championships. Goulet has won the city of Regina women's golf title thirty-two times. She is a two-time Saskatchewan Junior Women's champion, a nine-time Saskatchewan Amateur Women's champion, and a six-time Saskatchewan Senior Women's champion. She was also part of the Saskatchewan Senior Women's team that won the Canadian championship in 1985 and 1990. In 1964, Goulet participated in the British Open and won the Commonwealth Trophy as a semi-finalist. She holds course records at the Royal Regina Golf Club, the Wascana Country Club, and the Riverside Country Club. In 1993, she became the first woman in Canada to have a golf course named in her honour: the Joanne Goulet Golf Course in Regina. She was installed in the Saskatchewan Sports Hall of Fame in 1980.
Daria Coneghan, Holden Stoffel
Further Reading
Bingaman, S. 1997. Breaking 100: A Century of Women's Golf in Saskatchewan. Saskatoon: Canadian Ladies' Golf Association-Saskatchewan.