Gilroy, Doug (1915-2003)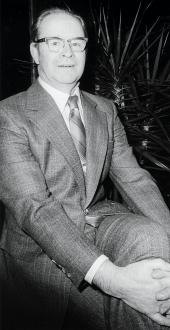 Through his "Prairie Wildlife" columns in the Western Producer newspaper from 1954 to 2000, Doug Gilroy was a household name in 160,000 farm homes across western Canada. Born on October 20, 1915, and raised on a dairy farm along Boggy Creek a few miles northwest of Regina, Gilroy farmed until his retirement in 1973.
A self-taught naturalist and an accomplished wildlife photographer, Gilroy's columns on birds, plants, mammals, insects and all aspects of nature were illustrated by detailed photographs of his subjects. Gilroy's column served as a communications link for bird banders and researchers requesting the public's assistance on reporting their observations, such as rare sightings of whooping cranes.
Gilroy's 1,594 columns over a period of forty-seven years promoted an interest and appreciation of wildlife and generated thousands of responses from readers.
Gilroy was active in several conservation organizations. He served as president of the Saskatchewan Natural History Society in 1951 and 1952. In 1954, Gilroy received the society's annual conservation award for his exceptional ability as a nature photographer, columnist and lecturer. In 1990, Gilroy received the Gordon Lund Conservation Award from the Saskatchewan Wildlife Federation for his untiring efforts in writing the "Prairie Wildlife" column.
Gilroy was the author of four books, all from Western Producer Prairie Books: Album of Prairie Birds (1967), Prairie Birds in Colour (1976), Parkland Portraits (1979), and Prairie Wildlife: The Best of Doug Gilroy's Nature Photography (1985). He died at Regina Beach on October 19, 2003.
Lorne Scott