Fyke, Kenneth J. (1940-)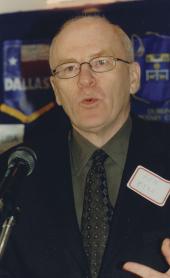 Kenneth Fyke has had a long and distinguished career as an administrator, manager and consultant on health issues both in Canada and internationally. He chaired the Saskatchewan Commission on Medicare, otherwise known as the Fyke Commission, which in 2001 issued its report, Caring for Medicare: Sustaining a Quality System.
Born in Moosomin on September 11, 1940, Fyke earned a degree in pharmacy from the University of Saskatchewan in 1962. His first day of work coincided with the beginning of the doctors' strike over the introduction of medicare in the province. He later earned a Masters of Health Services Administration from the University of Alberta.
Fyke served as Deputy Minister of Health in Saskatchewan and British Columbia, as CEO of the Greater Victoria Hospital Society and CEO of the Capital Health Region in Victoria, as founding Chair of the Board of Directors for the Canadian Blood Services, and as a member of the British Columbia Royal Commission on Health Care and Costs (1991). He represented Canada at the World Health Assembly in Geneva, Switzerland and at the Pan-American Health Conference in Washington, DC.
Fyke's work is notable for its focus on health service integration and regionalization. He received national and international recognition for his innovations in community-based care in Victoria, where he now lives. He also received an honorary doctorate from Royal Roads University, the Lieutenant Governor's Silver Medal for Excellence in the Public Service, and the Award for Distinguished Service given by the Canadian Healthcare Association.
Tom McIntosh