Ellis, Kathleen Wilhelmina (1887- 1968)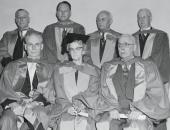 A nursing leader and the first professor and director of the School of Nursing, University of Saskatchewan, Kathleen Ellis was born in Penticton, BC on June 16, 1887. Well educated and experienced in administration, she was executive-secretary and registrar of the Saskatchewan Registered Nurses' Association from 1937 to 1950. She instituted changes in conditions of nursing, and regulated schools, curriculum, and teaching. Under her aegis, the small but highly regarded degree program was established at that university in 1938. During the war she also served as Emergency Nursing Advisor to the Canadian Nurses' Association, determining the use of federal funds to sustain services and education during World War II. The nursing profession emerged strengthened and improved.
With unusual insight, sound judgment, seemingly boundless energy, and the ability to mobilize others, she made a permanent imprint on nursing in Saskatchewan. In 1955, the University of Saskatchewan awarded her an honorary Doctor of Laws degree for her "lifetime of responsibility and service in the nursing profession." She was a dignified and gracious lady, independently wealthy, the embodiment of noblesse oblige. Kathleen Ellis retired in 1950, and died in Vancouver, BC, on March 9, 1968.
Lucy Willis