Early Childhood Education Training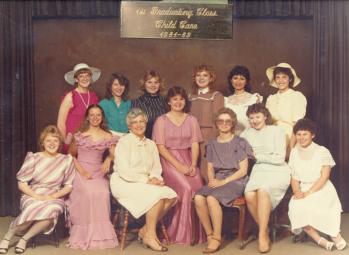 The education and training of Saskatchewan people working with children between the ages of birth and 5 years did not begin until the last half of the 20th century. Day care centres and some training of workers began during World War II in more industrialized parts of Canada, but because of the essentially agricultural economy this did not happen in Saskatchewan. Early Childhood Education training in the province became more prominent in the 1960s, with social activists calling for more support for families who needed quality care for their children during the work day. Some private day cares and preschools appeared, mostly funded by parent fees. The Canada Assistance Plan of 1966 made it possible for the provincial government to become financially involved in establishing child-care policy and providing support to address needs. A call for quality standards in child care by advocacy groups such as Action Child Care led the provincial government in 1980 to initiate the Day Care Review, which looked into issues related to child-care spaces, cost, and quality. Among other findings, the Day Care Review found that day care staff lacked specialized training. Although a 42-hour course had been implemented for day care centre staff under the Day Care Regulations of 1975, it was considered inadequate and a two-year training program was introduced by the Department of Education. An Advisory Board was then formed, and guidelines developed for the Child Care Worker Program.
In September 1980 a team at Kelsey Institute in Saskatoon began to develop the curriculum for the two-year program. Led by Margaret Neil, a modular curriculum was produced. In September 1981, twenty students enrolled in the first Child Care Worker Program. The program was to prepare graduates to work in a variety of early childhood settings, and with this in mind the name was changed in 1983 to Early Childhood Development Program. This program included a one-year certificate and a two-year diploma. Over the next ten years, curriculum development occurred and manuals were prepared for each course. This made it possible for the program to be offered through distance education as well as extension courses. Since 2002, candidates with experience in the early childhood field can, through Prior Learning Assessment and Recognition, challenge courses by demonstrating that they have learned and practiced the content while working with children.
By the 1990s the Early Childhood Development program was offered at Woodland Campus in Prince Albert and Wascana Campus in Regina, as well as at the Kelsey Campus where it was originally developed. This followed the 1986 amalgamation of community colleges to form the Saskatchewan Institute of Applied Science and Technology (SIAST). In 1994, the program changed its name once more, to Early Childhood Education Program. The three programs work closely together, graduating over 100 students each year from their Certificate and Diploma programs. These students are employed in day care centres and homes, preschools, schools, hospitals, and early intervention programs. The SIAST Early Childhood Education program works with Regional Colleges throughout Saskatchewan to deliver the program to a wider rural area, especially in the north. Private colleges have also brokered the SIAST Early Childhood Education Program. Other partners such as the University of Alberta and the University of Victoria have articulation agreements with the SIAST Early Childhood Education Program, which grant SIAST students one or two years of credit towards an Early Childhood or Child Studies degree.
Other programs in Early Childhood Education have evolved within Saskatchewan. Particularly noteworthy is a program partnership between the Meadow Lake Tribal Council and the University of Victoria, which began in 1990; this project suited the needs of First Nation people in the area. Since 1994 the Saskatchewan Indian Institute of Technologies has delivered this program in such places as Pine House Lake, La Ronge, and North Battleford. After finishing the two-year diploma, students may enroll in the third year of the University of Victoria Child and Youth degree; the northern community of Onion Lake has successfully run the complete degree program in partnership with the university in the past few years.
Susanne McElhinney