Dewalt, Kevin (1957-)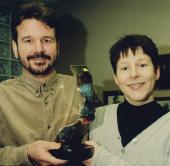 Kevin DeWalt is a groundbreaking film entrepreneur. In 1986 he formed Minds Eye Pictures in Regina, which for several years was the biggest privately held film entertainment company in western Canada. As CEO and chairman of Minds Eye he has produced many award-winning films and television series, and he was a catalyst in the building of Regina's state-of-the-art Canada Saskatchewan Production Studios in 2002. He is a founding member of the Saskatchewan Motion Picture Association, and has served on the board of directors of SaskFilm and the National Screen Institute, and as vice-president of the International Quorum of Film and Video Producers.
Born in Moose Jaw, DeWalt studied music at the University of Regina. However, what began as a student's working holiday in Australia led him on an odyssey across many countries, and his passion shifted from music toward the power of moving images. He filmed his exotic and sometimes harrowing experiences on a shoestring budget as a personal document for family and friends; but seeing Richard Attenborough's epic movie Ghandi in Bombay inspired a growing desire to move people and have an impact on the way they think. The result was his first production, a touring multimedia travelogue of his adventures titled Namaste. This led to work producing corporate videos and to the formation of Minds Eye in 1986, which within two years grew to employ 27 people. In 1989 Minds Eye produced its first television drama, The Great Electrical Revolution, based on a Ken Mitchell short story. Since then, the company has built a reputation producing high quality television series for youth and family audiences, such as Mythquest, 2030 CE, My Global Adventure, and the Gemini Award-winning Incredible Story Studio, which has been seen in more than 400 million homes in seventy-five countries. Minds Eye has also branched into feature film production and has made more than ten dramatic features since Decoy in 1994, including Lyddie (1995), My Lost Daughter (1996), Without Malice (1999), The Unsaid (a.k.a Sins of the Father, 2000), and Betrayed (2002). In 2002, Minds Eye's feature, Falling Angels, was the first film completed in the Canada Saskatchewan Production Studios. It garnered rave reviews and brought Minds Eye Pictures the distinction of being included in Canada's Top Ten list for 2003, compiled by the Toronto International Film Festival Group.
Christine Ramsay
Further Reading
Ramsay, C., and K. Wilson. 2002. "Minds Eye: Kevin DeWalt's Big Adventure," Take One 10 (36): 31-33.