Co-operators Life Insurance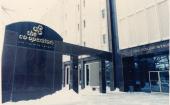 The Co-operators Life Insurance Company is one of the top ten life insurance organizations in Canada. Based in Regina, it employs 750 people, manages $3 billion in assets, and offers a wide portfolio of life and health insurance as well as retirement savings products. Co-operators Life Insurance Company is the second largest subsidiary of the Canadian-owned Co-operators Group Ltd. Consisting of twenty-eight member co-operatives, the Co-operators Group of companies specializes in insurance and financial security products, property development and management, and investment counseling. The Co-operators Group has a combined membership of 4.5 million, assets of over $5 billion, and a workforce of 4,000. The idea of a co-operative insurance company was inspired by the Great Depression of the 1930s and Canada's co-operative movement. In 1945, a group of Saskatchewan wheat farmers pooled their resources to form the first insurance co-operative in Canada, which flourished through the years to become the Co-operators Group, the largest Canadian-owned multi-product insurer in the country. Co-operators Life Insurance Company consistently ranks among Saskatchewan's top companies and has been named by MediaCorp as one of Canada's top 100 employers for three consecutive years. Co-operators Life Insurance Company has also received numerous awards for its outstanding support of community programs such as the United Way, the Food Bank, and the Hospitals of Regina Foundation.
Iain Stewart
Further Reading
2004. "Co-operators Life Posts Record Revenues," Regina Leader-Post (April 16): B4.