Choirs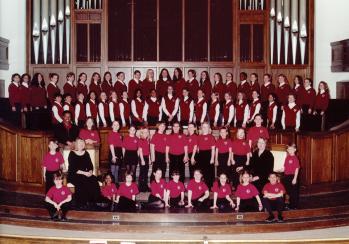 In 1914, A.S. Vogt (founder of the Mendelssohn Choir) claimed that Saskatchewan's excellent choral work was one benefit of the province's isolation and corresponding need to create its own art. The province not only had church and school choirs as well as glee clubs which had developed by the early 1890s: it also had substantial choral societies in the larger cities, male voice choirs (including a Welsh group in Saskatoon, which agreed to add English members in 1913!), and an annual music festival. At the first festival in 1909, 400 singers assembled from eight centres, and 200 of them combined to perform Mendelssohn's Festgesang and Bennett's May Queen. In 1914, Moose Jaw alone sent 65 children and 310 adults to the festival in Saskatoon in eight rail cars. In cities, the choral societies, with 80 to 250 members, were performing Mendelssohn's Elijah and St. Paul, Haydn's Creation, and the complete Messiah. Among groups in other centres were the Beethoven Choir in Moose Jaw and a Philharmonic Society in Indian Head, which exchanged performances with the Regina Philharmonic Society (1906–08).
After World War I, choirs for women were founded and flourished. Church choirs often numbered over 60 members, and many provincial communities raised their standards to compete successfully in the music festivals: the Biggar Choral Society won the Grand Challenge Shield in 1931; and a school chorus from Sedley, conducted by Jean Graham, gained a mark of 98 from no less a figure than Sir Hugh Roberton. It was, however, the growth in the school choruses that kept the music festivals buoyant in the late 1930s. During the war, morale was boosted in Regina by the Victory Choir, approved by city council and formed in July 1942, which consisted of 82 men and 191 women representing every choral unit and denomination in the city.
More recent times have seen large choral works regularly performed with the city symphony orchestras, with smaller ad hoc groups in centres like Swift Current, and in summer workshops with distinguished visiting conductors (John Alldis and Wayne Riddell, for example). Youth choirs in Prince Albert, Saskatoon, North Battleford, Moose Jaw and Regina have been highly successful in local, national and international competitions. The Saskatchewan Choral Federation, founded in 1978, has promoted choral music throughout the province and organizes annual camps for young singers. Chamber choirs in Outlook, Humboldt, Rosthern, Saskatoon, Regina, and in the universities have made it possible for audiences to hear the entire choral repertoire. Meanwhile, the groups that formed the base of the earlier tradition—church and school choirs—have been less numerous and less adventurous.
Robin Swales