Cameron, Dan (1880-1963)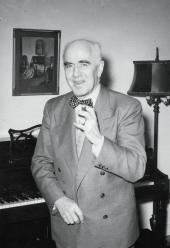 Dan Cameron's residence in the Modern Apartments in Regina mirrored the man: stuffed with books, redolent with cigar smoke, and with rum always on hand. He was never far from his vocal studio or the editorial offices of the local Regina Leader, for which he wrote music columns, book reviews, articles on international affairs, and whimsical notes. Indeed at the age of 74, after thirty years at the Regina Conservatory, he became a full-time worker for the paper.
Born on August 7, 1880, in Ottawa of Scottish parents, he lived in Winnipeg and became a singer, pianist and organist. His teaching at Albert College (Belleville, Ontario) revealed his passion for the broader cultural education of his pupils, whom he took to restaurants for fine food and to Toronto for Shakespeare. Respected for good music, good thinking, good food and wine, and the appreciation of the truth, he was to prove "a teacher of living." Commissioned in 1917 after two years in the Expeditionary Force, Cameron won the Military Cross and then worked in Veterans Affairs. Studies with eminent New York teachers Herbert Witherspoon, Oscar Saenger, Carl Odell, and George Sweet led him to the headship of voice teaching in Regina and a career as a linchpin of the city's musical life.
A leader in the Amateur Operatic Society, the Philharmonic Society, and the Orchestral Society, he was also conductor of the Bach Ladies' Choir, the founding conductor of the Male Voice Choir (1926– 46), and the director of music at Knox Church. He challenged this choir not only with anthems, but also with concert versions of opera. Convinced of the need for fellowship among teachers, he helped found the Regina Music Teachers' Association and became national vice-president of the Canadian Federation of Music Teachers, whose news bulletin he edited. He loved to maintain contact with the Conservatory students and teachers, writing about them and the city's musical life in a student bulletin, which he began in 1933. During World War II, as Director of the Conservatory, he kept city music alive by urging young students to enroll in what was largely an adult training institution and sponsoring the symphony orchestra. Successive professors of music at the University of Saskatchewan thought he kept too much control in his own hands and were critical, but the testimonial dinner given in his honour in May 1962 showed the deep affection in which he was held. That year, he fulfilled a lifetime ambition to attend the Bayreuth Festival in Germany. On November 13, 1963, this most cosmopolitan of men collapsed at work in the press office, smoking a large cigar, at the age of 83.
Robin Swales
Further Reading
Pitsula, J. M. 1988. An Act of Faith. Regina: Canadian Plains Research Center; Encyclopedia of Music in Canada, 2nd ed., 1992.