Brass, Oliver Johnston (1944-97)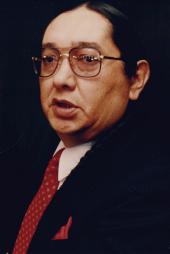 Oliver Brass was born in the Fort Qu'appelle Indian Hospital on March 4, 1944. Also known as Thunder Bird Sitting First, he was devoted to his family and to the education of his people. He grew up in a Christian family on the Peepeekesis reserve, and after completing high school earned a Bachelor of Theology (1965) from Aldersgate College in Moose Jaw. On a trip home to give a service at the Free Methodist Church, he met his future wife Sheila, who was teaching on the reserve; they married in 1965 and moved to Broadview, where Brass ministered to area reserves while Sheila taught adult upgrading. Having moved to Regina they both began attending university in 1969, and after graduation returned to Peepeekesis. Brass farmed for three years while serving as band councilor and on the board of the band school. Moving back to Regina, he served as a Free Methodist minister, and family life revolved around the church. Brass again took university classes, and in 1979 began teaching at the Saskatchewan Indian Federated College in the Department of Indian Studies. In 1980 he became a deacon in the Methodist Church; he also served as a pastor of the Big Sky Native Church, and was the director of Native ministries for the Methodist Church of Canada (1983-86). In 1985 he earned his PhD in Canadian Plains Studies from the University of Regina, making him the first Status Indian in Saskatchewan to obtain a doctoral degree.
In the early 1980s Brass began attending First Nations ceremonies, and after attending his first "Winter Sing" he realized he had come to the heart of Indian culture. In 1986, one year after becoming president of the Saskatchewan Indian Federated College (1985-90), he wrote a letter to the superintendent of the Canada West Free Methodists asking why the "good of the old way" could not be interrelated with the "goodness of the cross." One month later he resigned from the ministry. Brass learned his Saulteaux language, and by assisting in ceremonies was drawn closer to the inner circle of Saulteaux ceremonialists. He became recognized as a senior servant (scapiwis), and having undergone the piercing ceremony four times he had the authority to conduct piercing unassisted. He learned dozens of sacred songs, some of which he sang when he began to hold sweat lodges in the summer of 1996. At each step of his spiritual evolution his wife and five children were with him. He died on March 1, 1997.
Bernard Selinger