Bentham, Douglas (1947-)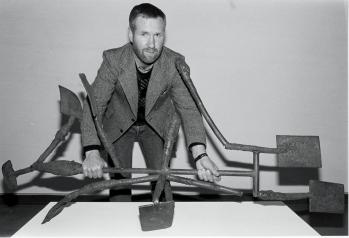 Douglas Wayne Bentham was born in Rosetown, Saskatchewan and has resided in Saskatoon since 1959. He received his BFA in painting from the University of Saskatchewan in 1969 and his MFA (sculpture) in 1989. With over forty solo exhibitions and over 100 group exhibitions in public and commercial galleries, his work has gained national and international recognition. Selected solo exhibitions (with publications) include: MacKenzie Art Gallery, 1975; Art Gallery of York University, 1976 (toured); Mendel Art Gallery, 1984 (toured); Dunlop Art Gallery, 1985; Edmonton Art Gallery, 1993; and Mendel Art Gallery, 2004. He has executed numerous public sculpture commissions in Canada, including those at the National Science Library, Ottawa, 1973; the Government of Canada Building, Calgary, 1981; and Innovation Place, Saskatoon, 1989. His sculpture is in many major public collections in Canada, and in private collections throughout North America and Europe.
Bentham works "in and around the constructivist process, i.e., an additive/subtractive approach to collaging." He often works in concurrent series, with one series based on and affecting the other. His earlier work was usually made from plate, sheet or rod steel that was cut and welded into abstract forms. His concerns in his early work with linear framing, surface contrasts, human scale and gesture, and the exploration of "drawing in space" persist to the present. By the mid-1980s, he felt the need to explore the expressive qualities of other materials and began to incorporate such things as found metal objects, wood, Plexiglas, etc., into his work. Bentham often finishes his sculpture with a variety of surface treatments such as high-gloss enamel, patinating with ferric and copper nitrate on the brass and bronze, hand-rubbing or coating with various substances, in order to produce painterly surface effects and bring out the inherent qualities of light and colour of his material. While he has been influenced by such prominent modernist sculptors as David Smith and Sir Anthony Caro, as well as the critical writing of Clement Greenberg, he has also been significantly informed by his interest in the material culture of the west: such items as Mennonite and Ukrainian furniture, handmade toys, Navajo blankets, and items of popular culture have influenced his approach to sculpture. By incorporating found objects with an inherent history (wheels, tools, etc.) into his work, he synthesizes the formal aspirations of high modernism while encouraging a narrative interpretation concerned with time and change.
Bentham has had a prolific and distinguished career. He has participated in numerous international workshops including the Emma Lake Artists' Workshops (in 1977 he was the co-leader with British sculptor Sir Anthony Caro), the Triangle Workshop (Pine Plains, NY), and the Hardingham (England) Sculpture Workshop. He is a founding member of Canadian Artists Representation (later CARFAC). He was elected a member of the Royal Canadian Academy in 1976, and was the recipient of the Lynch-Staunton Award from the Canada Council in 1981.
Dan Ring