Barr Colony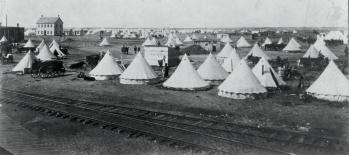 Located in the region of present-day Lloydminster, the Barr Colony was an all-British settlement founded by Reverend Isaac M. Barr in 1903. His colonizing scheme attracted almost 2,000 eager Britons, most of whom lacked the necessary farming experience to survive on the Canadian prairie. On March 31, the colonists sailed from England on the SS Lake Manitoba, a ship originally built to accommodate 550 passengers. A rough ocean voyage, numerous delays at the port of Saint John, New Brunswick, and an uncomfortable railway journey to Saskatoon turned many hopeful immigrants against Reverend Barr.
The long wagon trip from Saskatoon to North Battleford proved too much for those colonists who had no experience driving oxen and wagons. Some turned back but the majority persevered. By May, however, the colonists deposed Barr, having accused him of profiteering and misleading them about conditions on the prairies. Control of the colony passed to Reverend George Exton Lloyd and twelve advisors. Homesteading began as soon as the colonists reached the reserve. Despite the initial hardships, the settlement survived and began to prosper. Its first village, Lloydminster, was named in honour of George Lloyd. As for Reverend Barr, he lived for several years in the United States and eventually immigrated to Australia.
Holden Stoffel
Further Reading
Bowen, Lynne. 1992. Muddling Through: The Remarkable Story of the Barr Colonists. Vancouver: Douglas & McIntyre; Foster, Keith. 1982. "The Barr Colonists: Their Arrival and Impact on the Canadian North-West," Saskatchewan History 35 (3): 81-100; Wood, Christie. 2003. "Celebrating the Arrival of the Barr Colonists." Saskatchewan History 55 no. 1: 40-43.