Barley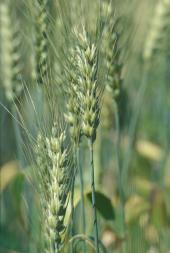 Barley (Hordeum vulgare L.) is the second most widely grown cereal crop in Canada after wheat. It contributes significantly to the world supply of livestock feed, malt products, and human food. Cultivated barley in Canada is an annual plant with spring or winter growth habit; in the prairie region, only the spring type is commercially produced. Barley has a spike inflorescence and is recognized as of either a two-rowed or a six-rowed type: in the case of two-rowed barley, only one of the three florets at each rachis node is fertile, whereas all three florets are fertile in the six-rowed type. Barley and other small grain cereals were brought to Canada in the early 17th century by European colonists. The barley was two-rowed and was targeted for the malting market; the first Canadian brewery was built in Quebec City in 1668. In the mid- to late-1800s, an active export market into the United States developed for Canadian malting barley; this essentially came to a halt when the American government imposed stiff import taxes.
Cereal crops were introduced to the prairies in the mid-1700s as trading posts became established in western Canada. As settlement occurred in the 1800s, the majority of the barley crop was grown as livestock feed. When the malting barley trade came to a halt in the late 1800s, and with increased usage for feed, there was less impetus to renew and improve seed stocks—which ultimately tarnished the image of barley. This changed in 1918 when a National Barley Committee was established to promote the development of the crop: this led to concerted efforts in barley improvement through research and development. Currently, Canada is a major exporter of malt and malting barley, with large markets in the United States and China. In western Canada, barley improvement efforts were initiated at agricultural colleges and experimental farms in the prairie provinces. Efforts were targeted at two-rowed and six-rowed malting and feed types. Currently, three barley breeding programs contribute to Saskatchewan production. They are located at the Crop Development Centre of the University of Saskatchewan; the Agriculture and Agri-Food Canada Research Centre at Brandon, Manitoba; and with a joint program in Lacombe, Alberta with Alberta Agriculture, Food and Rural Development, and Agriculture and Agri-Food Canada.
Saskatchewan statistics for barley acreage over the last twenty years show a slight rise, in spite of increased cropping options such as pulses and oilseeds. The upward trend is likely due to improving demand for both malting and feed barley. The 1998–2002 five-year average harvested acres and production for Saskatchewan were 4.1 million acres and 4.2 million tonnes respectively. Generally, farmers have two marketing options: malt and feed. Cultivars are developed specifically for these purposes. Approximately 75% of acres sown to barley in Saskatchewan are malting type, in hope of capturing the premium malting market price. However, less than 20% of production is actually selected for malting, with the remainder sold as feed. In addition to the conventional malting and feed markets, breeding efforts are targeting specialty markets: hull-less barley cultivars are available for the poultry and hog industries, and cultivars with high beta-glucan content and/or waxy types (special starch composition) are available for specialty food markets. In western Canada, the marketing of barley was placed under the authority of the Canadian Wheat Board in 1949. In 1974, as part of a new domestic feed grain policy, the federal government removed feed barley for the domestic market from the sole authority of the Board, which continues to market malting barley domestically, and malting and feed barley for export.
Blaine Recksiedler
Further Reading
Metcalfe, D.R. 1995. "Barley." Pp. 82-97 in A.E. Slinkard and D.R. Knott (eds.), Harvest of Gold. Saskatoon: University of Saskatchewan Extension Press.