Bard, Frederick George (1908-89)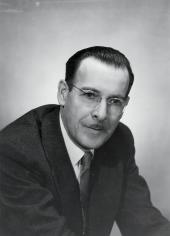 Fred Bard was a pioneer and leader in wildlife conservation who worked at the Saskatchewan Museum of Natural History for forty-five years. Bard was born in Granum, Alberta on August 1, 1908. He began his distinguished career at the museum in Regina in 1924, at the age of 16. From 1947 until his retirement in 1970, Bard served as director of the museum, now called the Royal Saskatchewan Museum.
Through years of field work in collecting museum specimens, documenting the flora and fauna of Saskatchewan, bird banding, photography, film making, public-speaking engagements, and designing museum exhibits, few people had a broader knowledge of the province's natural history than Bard.
In the 1940s, Bard was one of the first in North America to bring the plight of the endangered whooping crane to the public's attention; he was the Canadian leader in the international effort to save the whooper from extinction. Another example of his major efforts in conservation was his work in the 1950s in bringing the Canada goose back to the Canadian prairies, after it had all but vanished owing to hunting and habitat destruction.
In 1953, Bard obtained a pair of captive geese from the late Ralph Stueck of Abernethy. From this meager beginning the Wascana Canada Goose Flock was established, which soon numbered in the hundreds and was plentiful enough to be used for restocking. Offspring from this flock were reintroduced throughout southern Saskatchewan and in several provinces and states.
Saskatchewan celebrated its 50th anniversary as a province in 1955. With the support of naturalists, the Saskatchewan Golden Jubilee Committee, and dedicated staff, Bard was successful in completing the present day Royal Saskatchewan Museum for the official opening by His Excellency, the Right Honourable Vincent Massey, Governor-General of Canada on May 16, 1955. The museum, with its lifelike and detailed exhibits, was viewed at its opening as one of the best natural history museums on the continent.
Bard was active in many organizations and recognized on a number of occasions for his lifetime commitment to conservation and to the museum. In 1967, he received the Canadian Centennial Medal. He was inducted as a Fellow of the Canadian Museum Association, and in 1970 he received an Honorary Doctor of Laws degree from the University of Saskatchewan, Regina Campus.
Following his retirement from the museum, Bard and his wife Philomene retired to Surrey, British Columbia, where he died on September 23, 1989.
Lorne Scott