16th (Saskatchewan) Service Battalion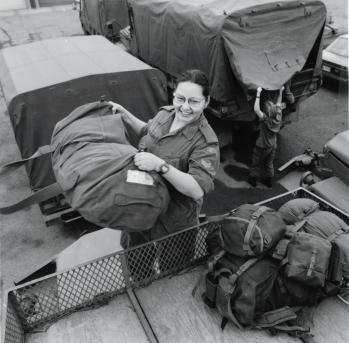 16th (Saskatchewan) Service Battalion, a reserve unit that provides combat service support to the other units of 38th Canadian Brigade Group, was organized in 1965 as a training unit with headquarters in Regina. In 1973 the Battalion was re-organized with 142nd Transport Company, Royal Canadian Army Service Corp (RCASC), and 5th Ordinance Company, Royal Canadian Ordnance Corps (RCOC), in Regina, becoming their supply and transport component; the maintenance personnel from Increment A, 2nd North Saskatchewan Regiment—formerly 37th Technical Squadron, Royal Canadian Electrical and Mechanical Engineers (RCEME)—in Saskatoon, became its maintenance company. A military police platoon was also established. The Battalion was designated 16th (Regina) Service Battalion in 1976, and re-designated 16th (Saskatchewan) Service Battalion in 1987.
In order to carry out the various functions required to keep troops operational, the Battalion has a wide variety of trades available. Unit members can be trained as maintenance, transport, supply, intelligence, food services, administration and military police personnel. Technicians are trained in the maintenance and repair of vehicles and weapons. Transport specialists learn to drive various types of military vehicles safely in all types of weather and terrain, and under varied conditions. Supply personnel learn to take responsibility for stores and equipment distribution and accounting in order to facilitate smooth training operations for the unit. Food services personnel are instructed in the preparation and provision of meals for all circumstances and under varying conditions. Administration staff duties include maintenance of unit files and records, keeping of pay records and files, and typing. Military police personnel provide services in crime detection, traffic and crowd control, route marking, investigations, and other police duties.
16th (Saskatchewan) Service Battalion is located in Regina and Saskatoon. Members of the Battalion continue to augment the Regular Force on various peacekeeping missions. The Battalion perpetuates Saskatchewan units of the former RCASC, RCOC and RCEME.
Stewart Mein
Further Reading
Warren, A. 1961. Wait for the Wagon: The Story of the Royal Canadian Army Service Corps. Toronto: McClelland; Rannie, W.F. 1984. To the Thunderer His Arms: The Royal Canadian Ordnance Corps. Lincoln, ON: W.F. Rannie.