Willoughby, Wellington Bartley (1859-1932)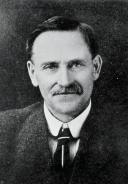 Willoughby was born on July 10, 1859, in Charlton, Peel County, Ontario. After completing high school in Hamilton he attended the University of Toronto and graduated with a BA and a degree in law. He was called to the Ontario Bar in 1886 and practiced in Toronto for more than ten years. He ran unsuccessfully for the Conservatives in the 1896 federal election. In 1897 he moved to Moose Jaw to establish his own legal practice, specializing in real estate, and developed other business interests. In 1908 he was appointed city solicitor for Moose Jaw.
In 1908 he was elected as a Conservative MLA for Moose Jaw and he was re-elected twice. Willoughby worked to unite members of the federal Conservative Party and supporters of the Provincial Rights grouping to form the beginnings of a provincial Conservative Party under the leadership of F.W.G. Haultain in 1911. When the party did not improve its standing in the 1912 election Haultain stepped down and Willoughby became the Opposition leader. Willoughby was an effective leader in the Legislature, maintaining a clear ideological alternative to the Liberals, especially on the controversial issue of education. Willoughby insisted that schools should serve as vehicles of Canadianization. Liberal support increased to 51 seats and the Conservatives lost one seat in the 1917 election.
Although Willoughby held his seat in Moose Jaw, he was persuaded by Prime Minister Borden to accept a seat in the Senate to make way for Donald McLean from Saskatoon as the new Conservative Party leader. Willoughby served briefly as Conservative leader in the Senate but retired shortly before his death on August 1, 1932.
Michael Cottrell
Print Entry