<%@include file="menu.html" %>

Welcome to the Encyclopedia of Saskatchewan. For assistance in exploring this site, please
click here
.
Wiebe, John E.N. (1936-2007)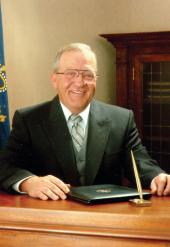 Farmer, former Liberal MLA, former Lieutenant-Governor of Saskatchewan, and former Senator, The Honourable Jack Wiebe was born in Herbert, Saskatchewan on May 31, 1936. Wiebe graduated from the University of Saskatchewan and built a successful farming operation in the Main Center district of the province. He was owner and president of L&W Feeders Ltd. from 1970 to 1985. A long-time Liberal strategist and fundraiser, he represented the constituency of Morse in the Saskatchewan Legislative Assembly from 1971 to 1978. Prime Minister Chretien appointed Wiebe the province's eighteenth Lieutenant-Governor on May 31, 1994, marking the first time a farmer held the vice-regal post since Reginald Parker (1945–48). Wiebe's term as the Queen's representative in Saskatchewan ended on February 16, 2000. Shortly thereafter, on April 6, he received a second government appointment, this time to the Canadian Senate. Jack Wiebe retired from the Upper Chamber on January 31, 2004, citing family reasons for leaving seven years before the mandatory retirement age of 75. Wiebe died April 16, 2007.
Holden Stoffel
Print Entry
Further Reading
Cowan, Pamela. 1999. "A 'Royal' Couple." Regina Sun (December 26); Knisley, Jim. 1995. "Pomp, Pageantry & Power." Regina Leader-Post, D1 (March 25).
This web site was produced with financial assistance
provided by Western Economic Diversification Canada and the Government of Saskatchewan.
Ce site Web a été conçu grâce à l'aide financière de
Diversification de l'économie de l'Ouest Canada et le gouvernement de la Saskatchewan.