Vanderhaeghe, Guy (1951-)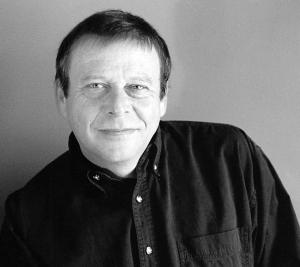 Guy Clarence Vanderhaeghe was born on April 5, 1951 in Esterhazy, the only child of Clarence Earl and Alma Beth Vanderhaeghe. The family lived on the edge of town and Clarence worked in the local potash mine's mill until Guy was 13, when they moved to a farm nearby. Vanderhaeghe attended school in Esterhazy until age 17, when he went to Saskatoon to attend the University of Saskatchewan. Inspired by a professor, he began what would be a lifelong passion: the study of history. He earned an Honours degree in that subject in 1971, and then an MA (1975); he also earned a BEd at the University of Regina (1978). He has worked as a teacher, archivist, researcher, editor, and writer in residence. He lives in Saskatoon, often working as Visiting Professor at St. Thomas More College.
Man Descending: Selected Stories (1982) made him famous overnight; it won the Governor General's Award for Fiction and Britain's Faber Prize. Although this was his first book publication, his earlier stories appeared in The Trouble With Heroes and Other Stories (1983). More obviously an uneven, eclectic young writer's book, the collection ranges from realistic contemporary tales to two curious philosophically self-conscious stories set in biblical times. In Man Descending, Vanderhaeghe settled into writing realistic fiction set in modern times. Echoing the title in several ways, the stories are never pessimistic; but there is a sense that the possibilities of life for most people are distinctly limited, and that disappointment is what most men can look forward to. The distinctive flavour of Vanderhaeghe's early writing is often created by first-person narrators who exhibit a curious mix of hope and self-loathing, careful watchfulness and self-delusion. Humour, violence, irony, philosophical, religious, mythological allusion, and a serious dose of cynicism frequently appear in this fiction.
Ed, the protagonist in the last two stories of Man Descending, is the central character and narrator of Vanderhaeghe's first novel, a black comedy, My Present Age (1984). Ed is trying to find his wife, who has left him; but his search is doomed by the bad choices he has made in the past and by hilariously awful people who compound his problems.
Homesick, winner of the City of Toronto Book Award in 1989, is set in 1959 in a southeastern Saskatchewan town much like Esterhazy. It is the story of the uneasy relationship that develops between 73-year-old Alec Monkman, his widowed daughter Vera who left home at 19, and her troubled 12-year-old son, for whose sake she has left the city and returned.
The short stories collected in Things as They Are? (1992) range widely in character and subject matter; they have in common the conviction of the writer protagonist of the last story that one must in fact accept things as they are. Vanderhaeghe's two plays, I Had a Job I Liked. Once (1991) and Dancock's Dance (1995), neatly echo a major shift in his writing. The former, which won the Canadian Authors' Association Award for Drama, is a contemporary story about a boy striking out at the privileged teens who despise and torment him; a principled Mountie wants to help him, but cannot. Dancock's Dance marks Vanderhaeghe's move into historical subjects. It is based on the true story of inmates of the Saskatchewan Hospital for the Insane running the institution when the great Spanish Influenza Epidemic of 1918 took the regular staff out of action.
Vanderhaeghe has said that he resisted historical subjects because he was afraid that his training as a historian would interfere with the imagination required to write fiction. That he was right to overcome his reluctance was clear with the appearance of The Englishman's Boy (1996), which won two Saskatchewan Book Awards and the Governor General's Award for Fiction. An ambitious novel about the dangers and the inevitability of myth making, it alternates between two narratives: the 1873 Cypress Hills Massacre perpetrated by American wolfers is the source of one; the other concerns the compromised efforts of an idealistic Canadian screenwriter working in 1920s Hollywood to tell the authentic story of the massacre, which would cast the wolfers as villains and the Indians as victims.
The Last Crossing (2002), winner of three Saskatchewan Book Awards and the 2004 CBC's Canada Reads contest, is also set in the 19th-century North American West. Two Englishmen set out to find their brother, who has disappeared; they are aided by Jerry Potts, a Métis (who in real life did guide Mounties). Once more, Vanderhaeghe has written a realistic western, filled with elements typical in that genre (challenging physical environment, violence, First Nations, crime, bravery, idealism, villains, woman in distress) and crafted them into a unique story. Much of the novel is narrated in turn by three of the major characters.
In 2003, Vanderhaeghe was a recipient of the Saskatchewan Order of Merit. In 2004, he was made an Officer of the Order of Canada, and won the Writers' Trust of Canada Timothy Findley Award.
Ken Probert
Print Entry