Uhrich, John Michael (1877-1951)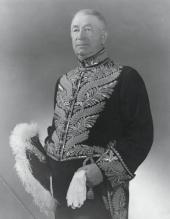 U hrich was born on June 7, 1877, in Formosa, Ontario. He completed school in Walkerton, Ontario, and briefly taught school there. While completing a medical degree at Northwestern University in Chicago, Uhrich came to Saskatchewan to teach school during his summer breaks. He graduated in 1907 and in 1909 established a medical practice in Hague.
Uhrich won the Rosthern constituency for the Liberals in the 1921 election. He was appointed to Cabinet as Provincial Secretary after Charles Dunning became Premier in 1922. In 1923 Uhrich was given the added responsibility of Minister of Public Health upon the department's creation. The provincial government's role in the municipal hospital system increased and the number of hospitals across the province expanded. Uhrich's greatest contribution was in the field of preventive medicine. Public inspection of water and milk supplies began, as well as immunization programs for smallpox and diphtheria. In 1929 he enacted legislation for the provincial government to assume the cost of treatment for tuberculosis in the province.
Uhrich was re-elected in the 1925 and 1929 elections. The defeat of the Gardiner government in 1929 relegated Uhrich to the Opposition. When the Liberals returned to power in 1934, Uhrich assumed his former role as Minister of Public Health and in 1938 he also took on Public Works. In 1940 the Canadian Public Health Association granted Uhrich a lifetime membership. Due to ill health, he retired from politics in 1944. When Lieutenant-Governor Reginald Parker died in office in 1948, Uhrich filled the position until his own death on June 15, 1951.
Brett Quiring
Print Entry