<%@include file="menu.html" %>

Welcome to the Encyclopedia of Saskatchewan. For assistance in exploring this site, please
click here
.
Snowbirds 431 (Air Demonstration) Squadron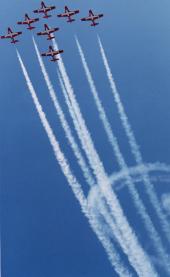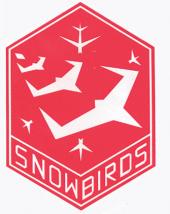 The Snowbirds are the Canadian air force's aerobatics team, based at 15 Wing Moose Jaw. One of only three military aerobatics teams in the world to fly nine-plane formations, the Snowbirds consist of eleven pilots, ten aircraft technicians, one logistics officer, and one supply technician. All squadron members are Canadian Forces personnel with years of military experience. Initially an unofficial demonstration flying team, the Snowbirds were established at Canadian Forces Base Moose Jaw in 1971. The squadron's name was determined through a contest held at the base's elementary school. The Snowbirds became a permanent unit in September 1977 and received squadron status on April 1, 1978, as 431 (Air Demonstration) Squadron. The team flies the Canadair CT-114 Tutor, a Canadian-designed and produced subsonic jet-trainer with a unique red, white, and blue colour scheme. The goal of the Snowbirds is to demonstrate the skill, professionalism, and teamwork of the Canadian Forces, and to achieve perfection in formation flight. Each year, the team performs at approximately seventy air shows at fifty different locations across North America.
Peter Borch
Print Entry
Further Reading
Baraton, J.-P. 1990. S nowbirds 1971-1990: A 20-Year History. Calgary: J.P.B. Publications; Oberle, L.P. 2001. The Canadian Forces Snowbirds: 431 Air Demonstration Squadron. Mankato, MS: Capstone High-Interest Books; Philp, O.B. 1990. Snowbirds from the Beginning. Sydney, BC: Porthole Press.
This web site was produced with financial assistance
provided by Western Economic Diversification Canada and the Government of Saskatchewan.
Ce site Web a été conçu grâce à l'aide financière de
Diversification de l'économie de l'Ouest Canada et le gouvernement de la Saskatchewan.