Shumiatcher, Morris Cyril (1917- 2004)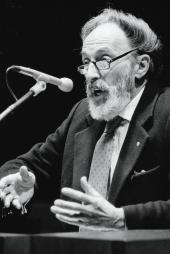 Morris Cyril Shumiatcher was born in Calgary, Alberta on September 20, 1917. He graduated from the University of Alberta in 1940 with a BA and in 1941 with an LLB, and from the University of Toronto in 1942 with an LLM. He received his Doctorate of Jurisprudence after serving with the Royal Canadian Air Force from 1943 to 1945. In 1946, he moved to Saskatchewan to accept the position of Law Officer of the Attorney General and became personal assistant to Premier T.C. Douglas. He drafted numerous innovative statutes including the Farm Security Act and the Trade Union Act. In 1948 he was appointed the youngest King's Counsel in the Commonwealth at the age of 31. He authored the Saskatchewan Bill of Rights, which was the first Bill of Rights in Canada and preceded the United Nations Declaration of Human Rights by one year. He convened the first meeting of Treaty Indians and published a text of their treaties in 1946. He entered private practice in 1949 and defended cases across western Canada, appearing in the Supreme Court of Canada numerous times. In 1979, he published Man of Law: A Model, in which he outlined the characteristics that make up the ideal lawyer.
Shumiatcher was president of the Norman MacKenzie Art Gallery; president of the Regina Symphony Orchestra; honorary president of the Monarchist League of Regina; president of the Duke of Edinburgh Award Committee for Saskatchewan; president of the Royal Commonwealth Society; member of the Board of Directors for the Saskatchewan Centre of the Arts; member of the Board of Directors of Beth Jacob Synagogue; honorary solicitor of the Regina Press Club; and member of the National Council of the Canadian Bar Association. He served for fourteen years as the Honorary Consul General for Japan and Dean of the Consular Corps for Saskatchewan. He endowed the annual lecture series "Law and literature" at the College of Law, University of Saskatchewan; the Robert E. Bamford Memorial Award; and the Morris and Jacqui Shumiatcher Scholarship in Law. In recognition of his numerous contributions he was made Officer of the Order of Canada (1981), he also received the Schneider Communication Award (1982), the B'nai Brith Citizen of the Year (1991), the Canada 125 medal (1992), the Canadian Bar Association Distinguished Service Award (1995), a Life Membership in the Regina Bar Association (1997), and the Saskatchewan Order of Merit (1997). Morris Shumiatcher died on September 23, 2004.
Daria Coneghan
Print Entry