Schudel, Thomas (1937-)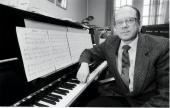 Thomas Schudel was born on September 8, 1937, in Defiance, Ohio. A composer, bassoonist and teacher, he completed his BSc in Music Education and Master's in Theory and Composition at Ohio State University and received his Doctor of Musical Arts degree at the University of Michigan in 1971. He joined the faculty at the University of Saskatchewan, Regina Campus in 1964 and became Head of the Music Department in 1975, a post he held until 1978. Counterpoint, analysis, and woodwinds were among the classes he taught during his tenure. In 1972, Schudel's Symphony No. 1 garnered first prize in the City of Trieste International Competition for Orchestral Compositions. His works have been performed across Canada and internationally; many are published in Canada and the USA. Thanks to commissions from provincial groups such as the Saskatchewan Music Festival Association (SMFA), his music has been showcased throughout the province. The SMFA included his works in their 2004-05 syllabus, thus reaching children in many communities. Other works have been commissioned by the Saskatchewan Music Educators Association and the Saskatchewan Choral Federation, as well as by the Canada Council and the CBC.
The Contemporary Directions Ensemble, of which Schudel, along with fellow musician Elizabeth Raum, was a founding member, was incorporated in the late 1970s. This group of professional Regina musicians promoted contemporary music through performance into the late 1980s.
Fiona Stevenson
Print Entry