Regional Airlines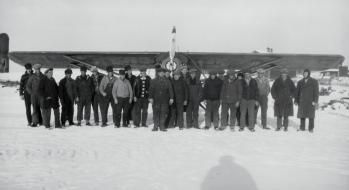 Great distances, low population densities, and economic cycles shaped the structure of commercial aviation in Saskatchewan. Barnstormers and flight training operations formed the early beginnings of aviation in the 1920s. A decade later, bush pilots established small operations at remote bases, transporting prospectors, trappers and goods to isolated regions. Commercial aviation began in full force when companies established whole plane charter operations that provided the revenue base to finance expansion into unit toll passenger scheduled routes. In 1932 a group of northern aviators established M & C Aviation, based in Prince Albert. In the southern tier Prairie Airways, established in 1938, transported passengers and mail between Regina, Moose Jaw, and Saskatoon. In a further development, the Saskatchewan government purchased M & C Aviation in 1947 to form the Crown corporation Saskatchewan Government Airways (Saskair). The government developed an extensive network of routes and charter bases in the northern half of the province. Regional airlines based in Edmonton and Winnipeg dominated routes south of Prince Albert. Canadian Pacific Airlines (CPA) purchased Prairie Airways in 1941, continuing the service with newer aircraft for more than a decade.
Trans-Canada Airlines (TCA), the forerunner of Air Canada, arrived in 1946 on a system of short-haul east-west routes across the province under a federal mandate that gave the Crown carrier both a regional and national transport role. Pacific Western Airlines (PWA) took over CPA's loss-making operations in 1957 on a route system that included Regina, Moose Jaw, Saskatoon, Prince Albert, North Battleford, Lloydminster and Edmonton. After experiencing five years of losses, the privately owned company handed the entire route system back to Trans-Canada Airlines at a time when the latter was forming new strategies and acquiring larger aircraft on its east-west trunk routes. Regional services did not fit TCA's operational plans, and the Crown airline withdrew in 1963 by contracting the prairie routes to Winnipeg-based Transair. The agreement included the transfer of several aircraft from TCA and payment of a federal subsidy. Despite efforts to increase revenues, Transair faced heavy financial losses on the north-south route after its three-year subsidy ended; it curtailed flight frequencies, and abandoned flights to Yorkton and Brandon.
In 1965 a private company, North Canada Air (NORCANAIR), purchased government-owned Saskair and began plans to integrate northern and southern tiers of the province into a single, unified system. Following a period of regulatory and financial negotiations, Transair withdrew from Saskatchewan and Norcanair acquired rights to add Saskatoon and Regina to its route system. The conscc-tholidated routes now provided same-plan flights from Uranium City, Stony Rapids and La Ronge to Saskatoon and Regina, with no overnight stop in Prince Albert. The consolidation allowed passengers travelling to and from northern Saskatchewan to make connections in Saskatoon and Regina with Air Canada to domestic and international destinations. Norcanair extended its north-south routes into the United States - to Minot, North Dakota, and later Minneapolis, Minnesota.
Deregulation led to rapid consolidation of regional airlines. Alberta-based Time Air acquired Norcanair in 1987 and was itself incorporated into Canadian Regional Airlines, a division of Canadian Airlines International (CAI). A series of acquisitions, followed by financial reversals, led to the take-over of CAI by Air Canada in 2000 and the demise of Canadian Regional Airlines. Air Canada formed its own regional airline, Jazz Air, in a strategy to compete with a new concept in the industry: discount airlines.
The thinly travelled north-south route system within the province, which relies mainly on local traffic, is served primarily by Transwest Air, a company formed by the merger of two northern charter operations.
Merv Samborsky
Print Entry