Qu'Appelle Valley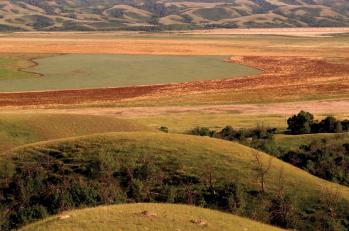 The Qu'Appelle Valley runs from west to east across southern Saskatchewan. Its westernmost origins now lie flooded under the Qu'Appelle arm of Lake Diefenbaker. The valley ends a few kilometres across the Saskatchewan-Manitoba boundary at St. Lazare, where the Qu'Appelle River joins the Assiniboine. Ultimately, the river's waters flow to Hudson Bay via Winnipeg, the Red River, Lake Winnipeg, and the Nelson River.
About 14,000 years ago the last continental ice sheet to sweep across Saskatchewan was in northward retreat as the climate warmed. When the ice sheet stalled at the site of the future Qu'Appelle Valley, vast quantities of meltwater flowed west to east across the ice sheet face, cutting deep into sediments laid down by previous glaciations and creating a valley some 180 metres deep and roughly 2 km across.
After the ice sheet retreated further north, the valley emptied of water, leaving a small remnant river that winds down the valley. Underground springs feed valley lakes. North and south of the valley coulees snake into the landscape. Most of the time these coulees are dry; but in spring, after the snowmelt, they funnel water and sediment from the surrounding plains down to the river. Over millennia this sediment has partially infilled the valley.
Moisture levels are the key determinant of valley vegetation. In coulees or hollows, or where valley slopes face north, moisture levels are higher, and trees and thick bush can be found. On the driest, south-facing slopes, there are cacti amongst the shortgrass. Bur oak trees grow on the easternmost valley slopes, the only native occurrence of oaks in Saskatchewan. Isolated patches of native prairie grass, protected from the plough by slope or bush, can still be found along valley's edge, a reminder of the original native grasslands that once stretched across the plains.
First Nations peoples have resided in the valley for millennia. Originally, they benefited from the abundant fish in the lakes and river. Deer and other game were plentiful in the valley coulees, and trees provided both shelter from the wind and fuel for fire. In the fur-trade days pemmican was shipped down valley on a Hudson's Bay Company cart trail to supply the paddlers of the fur trade in more forested regions. Today the valley is home to First Nations, small towns, farmers and ranchers, and cottagers clustered around the valley lakes.
Norm Henderson
Print Entry