Pohorecky, Zenon S. (1928-98)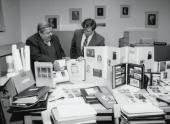 Zenon Stephen Pohorecky can be characterized as an artist, academic, activist, anthropologist,and archaeologist. His chief contribution to Saskatchewan's cultural development lies in his teaching, having taught thousands of students over his thirty-year career as a University of Saskatchewan professor of anthropology and Archaeology. In this, and in his extensive volunteer service, Pohorecky fostered racial and ethnic tolerance, civil liberties and human rights, and encouraged an informed and deeper understanding of the ancient and contemporary cultures of the province.
Born in western Ukraine, he moved with his family to Edmonton when he was an infant, then to Saskatoon and Winnipeg. He obtained two MA degrees, from the University of Manitoba (fine arts and philosophy) and from the University of Toronto (anthropology and archaeology). His PhD was awarded by the University of California at Berkeley in 1964 for his dissertation, "Archaeology of the South Coast Ranges of California." He undertook three seasons of field work (1958-60) surveying for archaeological sites in the area to be affected by the South Saskatchewan reservoir, and took up his post as the first anthropologist/archaeologist employed by a Saskatchewan university in 1964.
Pohorecky served on many boards dedicated to cultural development and, in addition to academic papers on rock art and archaeological resource management, wrote a number of popular, encyclopedic publications: Saskatchewan People (1978), Ethnic Organizations in Saskatchewan (1977), Saskatchewan Indian Heritage: The First 200 Centuries (1970) - as well as a series of articles in the daily newspaper in 1970, intended to increase understanding about the history, culture and legal rights of Saskatchewan Aboriginal peoples. Much of this work was pioneering, and not necessarily popular at the time; as he taught in his introductory university classes, one of the duties of anthropology is to challenge existing assumptions and to confront our prejudices about why things are as they are.
Tim E.H. Jones
Print Entry