Oser, Jean (1908-2002)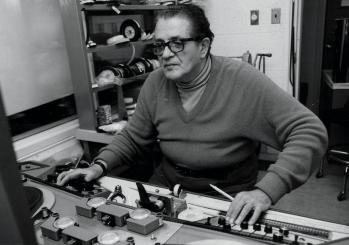 Jean Oser was an internationally known film editor, an Oscar-winning dramatic filmmaker, and a catalyst in the development of the Saskatchewan film community in the 1970s. A formative member of the Department of Media Production and Studies, he became Professor Emeritus of the University of Regina in 1990. In 1991, he received a Lifetime Award for Excellence in the Arts from the Saskatchewan Arts Board. Born in Strasbourg (Alsace), Jean Oser grew up in Berlin with a passion for the moving image that would eventually lead to his collaboration with many of the world's legendary filmmakers. Intending to become a director, he apprenticed with Hans Richter and Walter Ruttman. "If you want to make good films," he once said, "don't be such a damn good editor, because they'll never let you out of the cutting room." In demand for his pioneering cutting techniques, he built his reputation as an editor for Austrian director G.W. Pabst and his cinema of social consciousness, working on such films as Westfront 1918 (1930), The Threepenny Opera (1931), and Kameradeschaft (1931). Leaving Germany in the early 1930s, Oser lived and worked in Paris, eventually immigrating to the United States after serving with the French army in Morocco. In the 1950s, he worked with such talents as Garson Kanin, Burgess Meredith, and Jean Renoir. His time spent at 20th Century Fox earned him an Oscar in the Dramatic Short Film category for A Light in the Window (1953), an innovative profile of 17th century Dutch painter Johannes Vermeer. For the next thirty years, he was based in New York City, making industrial films, television features and series, documentaries, and travel films.
In 1970, Oser came to Canada, having been invited to Regina to help establish a film school at the University. Throughout the 1970s and early 1980s, he taught film history and aesthetics and inspired a generation of Saskatchewan filmmakers. He was a key figure in the filming of Allan King's prairie classic, Who Has Seen the Wind, in Arcola in 1977. His later work includes the television documentary A History of World Cinema: A Personal View by Jean Oser, shot by Regina's Camera West Film Associates Ltd., which premiered at the Kino Arsenal, Berlin, in May 1993. In 2000, the University of Regina's Department of Media Production and Studies instituted the Jean Oser Prize for excellence in Film Studies in his honour; the prize-winning essay is published in Splice, the magazine of the Saskatchewan Filmpool Co-operative. Jean Oser died in Regina on February 20, 2002.
Christine Ramsay
Print Entry