Norwegian Settlements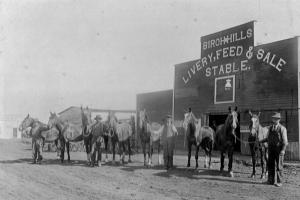 The Birch Hills settlement was probably the earliest Norwegian settlement in what is now Saskatchewan, as it began to develop as early as 1894. The first Norwegian Lutheran congregation was established at Hanley in 1903, followed almost immediately by congregations near Langham and Birch Hills - so that virtually all of Saskatchewan's Norwegian settlements had come into existence by 1910. Around the turn of the century, large numbers of Norwegians had migrated northwards across the international frontier from earlier settlements they had established in Minnesota, the Dakotas, and Montana. Many settled in areas just north of the border. Today, Norwegian-Canadians form a substantial proportion in most of the rural municipalities along the border as well as in a corridor extending northwest from Estevan through Weyburn. They constitute between half and a quarter of the population of eight communities and a substantial proportion in another eight; in certain rural districts and unincorporated hamlets, Norwegians predominate. Altogether there are at least 4,000 people of Scandinavian (mostly Norwegian) origin in these communities today. Further west along the frontier, many Norwegian-Americans spread northward across the border from neighbouring settlements in Montana into the south-central frontier region, extending from the border northwards, through the Big Muddy Badlands and Wood Mountain into the Cactus Hills. At least four early Norwegian Lutheran congregations were founded. Today, as many as 1,400 people of Scandinavian origin are scattered through eight rural municipalities and a dozen incorporated communities in this region. However, they form a majority only in two of the smallest communities; in the other communities and in the rural municipalities, they never form more than 15-20% of the population. While there are fewer people of Norwegian origin (perhaps about 800) in the southwest frontier region, south of Cypress Hills they formed a well-defined settlement in this region in 1909-10. Immigrating from North Dakota, they settled in and around Climax, Frontier and Robsart, and established Norwegian Lutheran congregations in these villages as well as in Shaunavon. A continuous area of Norwegian concentration extends south into the adjacent Norheim and Hogeland districts in Montana.
A small concentration of Norwegians from North Dakota settled in the Simmie-Illerbrun area some 60 km to the north in 1906, establishing a Norwegian Lutheran congregation at Simmie. Today their descendants in the area number about 700, inclusive of a small minority in the nearby town of Gull Lake. A considerable number of Norwegians concentrated quite heavily in the region immediately to the northwest and north of Swift Current around 1906-08; six early Norwegian Lutheran congregations were established. Today, they do not form a majority in any incorporated community or rural municipality in this region; in smaller, unincorporated hamlets and rural districts, however, they predominate.
One of the largest primarily Norwegian settlements in Saskatchewan had begun to develop in the central region around Outlook and Hanley by 1903-06. Many of the original settlers came from largely Norwegian communities in the United States, such as Veblen and Langford (South Dakota), Northwood (North Dakota), and Hanley Falls (Minnesota); yet many had been born in Norway, and some had even arrived directly from there. The first Norwegian Lutheran congregation in Saskatchewan was founded at Hanley in 1903; several other early congregations "in town" were soon established. But most Norwegian Lutheran churches tended to become focal points for compact, solidly Norwegian districts out in the country. In fact, Scandinavian people do not comprise a majority in any community in the general region; yet as almost 3,000 people of Scandinavian origin live there, it is one of the largest concentrations of Norwegian people in Saskatchewan. Outlook has the largest number of people of Scandinavian descent for any rural community, with the possible exception of Melfort, and is the home of a Lutheran college with a strong Norwegian tradition.
A very small concentration of Norwegians developed in the area between Langham, Vanscoy and Delisle, about 60 km north of Outlook and immediately west of Saskatoon. The Norwegian Lutheran congregation founded near Langham in 1903 is one of the oldest in the province. Today, only about 300 people of Scandinavian origin remain in the area. A string of five primarily Norwegian settlements (but with substantial Swedish proportions in some communities and districts) wove its way across the north and east-central Saskatchewan prairies, from the Prince Albert region all the way to the Manitoba border. Today almost 10,000 people of Scandinavian origin live in these five settlements.
A large Scandinavian settlement around Shellbrook, west of Prince Albert, began to develop by 1904. The Parkside area southwest of Shellbrook was settled by people of both Swedish and Norwegian origin who had immigrated via the midwestern states, as well as by immigrants directly from Sweden and Norway. Canwood, northwest of Shellbrook, became the focal point of a large area settled by people of diverse Scandinavian origins: chiefly Swedish and Norwegian, but also some Danish. The Ordale area, between Parkside and Canwood, due west of Shellbrook, was settled primarily by people of Norwegian origin related to those at Hagen in the Birch Hills settlement. Early Norwegian Lutheran congregations were established at Parkside, Shell Lake, and Shellbrook. In 1971 there were at least 1,500 people of Scandinavian origin within the settlement.
Some 30 km southeast of Prince Albert, the Birch Hills settlement was probably the earliest and remained the best defined, primarily Norwegian settlement in Saskatchewan. The Glen Mary district near the town of Birch Hills was first settled by Norwegian immigrants as early as 1894. In 1903 Rev. H.O. Holm, Home Mission Superintendent of the United Norwegian Lutheran Church, traveled through the region to determine the need for home mission work among the Norwegian settlers. Four days after he had organized the first Norwegian congregation in the province at Hanley (in the Outlook settlement), he founded the "Norden Skandianviske Lutherske Kirke" at Glen Mary. Later that same year, Pastor S.H. Njaa was sent from Hanley Falls, Minnesota to Hanley by a church board which had met at Canton, South Dakota; then he was posted to the Birch Hills settlement. Fairly close contact seems to have been maintained between the various settlements within the province, between them and similar ones in the midwestern states, and between them and certain areas of Scandinavia. It was largely through these contacts that the settlement around Birch Hills grew, as more and more people of Scandinavian origin migrated there from other Scandinavia areas in the province, from the American settlements, and from Scandinavia itself. The Birch Hills settlement, together with an adjacent Swedish settlement north of Melfort, included over 3,000 people of Scandinavian origin. While Scandinavian people do not predominate in any town or incorporated village in the settlement region, they do form a very high proportion (over 90%) in many smaller communities and rural districts. The Hagen area west of Birch Hills, for example, is almost completely Norwegian, as are the districts of Queen Maud, Prestfoss, Viking, Norden, etc., north of Weldon.
About 50 km south of Melfort, another Norwegian settlement developed around Naicam. Immanuel Norwegian Lutheran Congregation, founded at Naicam in 1910, held all of its services exclusively in Norwegian during the early years (as did most, if not all, Norwegian Lutheran congregations), and has long held a Norwegian Christmas service. Virtually all pastors who served this congregation, as well as the Dovre Congregation, founded near Spalding in 1919, were Norwegian. A bilingual sign in Norwegian and English welcomes visitors to Naicam. The Scandinavian proportion is less than one-third in Naicam, and a quarter in Spalding; yet surrounding rural districts tend to be quite heavily Norwegian, as early placenames suggested. Today, an estimated 1,000 Scandinavians live in this settlement.
It is often difficult to determine when one Norwegian settlement dwindles and the next begins. To the east of Naicam and Spalding, Scandinavian settlement continues eastward 50 km into the Rose Valley area. However, Ukrainians outnumber Scandinavians in the village of Rose Valley, where people of Scandinavian origin comprise slightly over a quarter of the community population. To the south, only one in five residents in Fosston is Scandinavian, as many Poles settled in this community. But the next village, Hendon, is largely Swedish and Norwegian; and Swedes, Norwegians and Icelanders comprise a substantial proportion of the town of Wadena. To the north of Rose Valley, Scandinavian people concentrated around Nora and Archerwill; the Dahlton district is largely Scandinavian. Further to the north, Scandinavians settled around Chagoness, Bjorkdale, and Stenen. Early Norwegian Lutheran congregations were founded at Nora, Rose Valley, Hendon and Wadena.
Norwegian settlement continued eastward past Kelvington into the areas around Margo, Ketchen, Preeceville, Sturgis, and Norquay. Early Norwegian Lutheran congregations included Margo, Poplar Grove at Ketchen (1918), and North Prairie at Preeceville (1908); again, virtually all pastors for decades have been Norwegian. An estimated 2,400 people of Scandinavian descent live in this region. While they constitute relatively low proportions in the principal communities, they form higher proportions in the surrounding rural areas. According to recent census data (2001), of 60,510 Saskatchewan residents claiming Norwegian ethnic origin, 15% (9,135) claim no other ethnic origin, whereas the vast majority, 84.9% (51,370) claim other origins besides Norwegian. (See also Ethnic Bloc Settlements, Scandinavian Settlements, Swedish Settlements, American Immigration)
Alan Anderson
Print Entry