North Saskatchewan River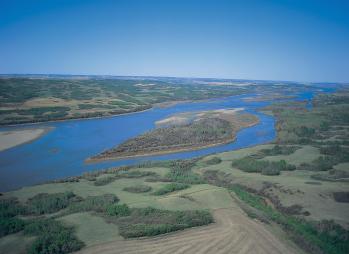 (53°15' N, 105°05'W; map sheet 73 H/3). The North Saskatchewan River originates in the eastern slopes of the Rocky Mountains west of Red Deer in Alberta, and flows eastward to its confluence with the South Saskatchewan River 45 km east of Prince Albert, Saskatchewan. The North Saskatchewan River watershed encompasses a total area of 156,400 km2, including the area tributary to Manitou Lake south of Lloydminster. About 41% of the total watershed area lies in Saskatchewan (63,600 km2). Most of the flow in the river is derived from the mountain and foothill region of the watershed upstream of Edmonton, Alberta. At Edmonton, the mean annual flow is 213 m3/s, whereas the mean annual flow at Prince Albert is 235 m3/s (1912–2000). Peak flows typically occur in June or July, in conjunction with snowmelt at the higher elevations. Relatively little flow is generated from the prairie region of the watershed. The Battle River is the largest tributary entirely in the prairie region and has a mean annual flow of 14.1 m3/s. The mean annual recorded flow volume for the North Saskatchewan River at Prince Albert is 7,508,000 dam3 (cubic decametres).
The Saskatchewan portion of the watershed includes a portion of the Battle River watershed and Eagle Creek, which join the North Saskatchewan from the west and south. A number of rivers join the North Saskatchewan from the north, including the Monnery, Englishman, Turtlelake, Jackfish, Sturgeon, Spruce and Garden rivers. After the junction of the North and South Saskatchewan rivers, the Saskatchewan River flows eastward through the communities of Nipawin and Cumberland House. Major tributaries of the Saskatchewan River in the province include the Sturgeon-Weir and Torch rivers. The mean annual flow volume of the Saskatchewan River at the Manitoba-Saskatchewan boundary is 19,910,000 dam3.
Bart Oegema
Print Entry