Mulcaster, Wynona (1915-)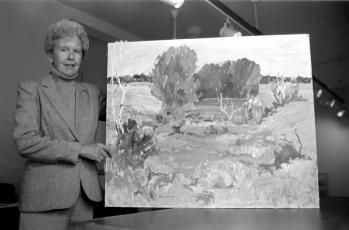 Wynona (Nonie) Croft Mulcaster was born on April 10, 1915, in Prince Albert, Saskatchewan, daughter of Richard and Valerie Rhona Mulcaster. She is renowned as an educator and artist. Her landscape paintings are associated with her contemporaries Reta Cowley, Ernest Lindner and Dorothy Knowles. Mulcaster's teaching career spans the period 1943-77. She served as Director of Art Education for the Saskatchewan Teachers' College, Saskatoon and as an Associate Professor in the Department of visual art, University of Saskatchewan. Students included Robert Murray, ALLEN SAPP and Otto Rogers. She was inducted into the Sportsman Hall of Fame in 1994 for her contributions to children in the Saskatoon Pony Club, founded by her in 1945. Prior to landscape painting, her subject matter was horses.
Wynona studied art with Ernest Lindner from 1935 to 1945, and received her BA (Art and English) from the University of Saskatchewan in 1942. She attended the Banff School of Fine Arts, studying under H.G. Glyde and A.Y. Jackson, the School of Art and Design in Montreal, studying under Arthur Lismer, and numerous Emma Lake Artists' Workshops with Joseph Plaskett, Will Barnett and Kenneth Noland. She received a grant from the Canada Council for the Arts which enabled her to study art and art education by visiting major art galleries in Europe in 1958-59. She received an MFA at the Allende Institute, Mexico in 1976. Mulcaster creates a total sense of energy and space within her painting, as the relationship between land and sky represents an immediate perception of landscape or an ambiguous memory with close affinities to Emily Carr. Her painting technique of creating marks on paper is reminiscent of Hans Hoffman, theorist of the New York School, and his observation that pictorial depth is achieved by random placement of objects rather than arranging them to a vanishing point. Working primarily in acrylics on canvas or paper, Mulcaster maintains a solid comprehension of modernist aesthetics. Her admiration for the European Impressionists and inspiration of new colour relationships and energy found within the Mexican landscape inform her print-making process.
In 1993, Mulcaster was presented the Saskatchewan Arts Board Lifetime Achievement Award for Excellence in the Arts. Her work is exhibited across Canada and collected in numerous private and permanent collections including the Saskatchewan Arts Board, Regina, the Canada Council Art Bank, Ottawa, the MacKenzie Art Gallery, Regina, the Mendel Art Gallery, Saskatoon, and the Glenbow Museum, Calgary. Mulcaster currently lives in San Miguel de Allende, Mexico but continues to visit and paint the prairies.
Patricia Deadman
Print Entry