Moore, Kenneth Strath (1910-1982)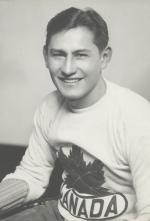 Kenneth Strath Moore, a member of the Peepeekisis First Nation, was born in Balcarres, Saskatchewan, in 1910, the third of eight children. After his two older brothers died while attending residential school, his parents moved the family to Regina, Saskatchewan, where they became one of the early First Nations families to reside in that city.
As a family of extremely modest means, Moore's parents James and Edith sacrificed to provide him with the equipment he needed to participate in sport. All family savings went to purchase skates, jerseys and other equipment. At a young age, Moore demonstrated athletic ability which was matched only by his sportsmanship. One early indication was his receiving the Eilers' Medal, which was awarded to a player in the Regina Junior Hockey Association who, in the estimation of the fans, was looked upon as "the cleanest athlete."
Moore would excel at hockey, Baseball, lacrosse, rugby, basketball, speed skating, and every sport he played, receiving glowing coverage in Newspapers in Regina and throughout Western Canada in the 1920s and 1930s. In newspaper articles Moore is described repeatedly as "the outstanding player for his team" and a "super sniper" who "possessed a terrific shot … and a turn of speed that carries him out of many tight spots." At a time when few Canadians, and almost no Aboriginal Canadians, attended university, Moore's athletic ability enabled him to win scholarships. He attended Campion College and Regina College on athletic scholarships, where he captained hockey and rugby teams, and was described as "the most versatile athlete in the College."
Moore was a National Junior Hockey Champion with the Regina Pats, scoring the winning goal with 40 seconds left in the game to bring home the Memorial Cup in 1930. Moore went on to win two Allan Cup National Hockey Championships, and in 1932 reached the pinnacle of his career when he traveled to Lake Placid, New York, to play in the Olympic Games where he received a gold medal. That gold medal made history, as Moore is believed to be the first Aboriginal person in Canada to win an Olympic gold medal.
While success marked his athletic life, tragedy would mark Moore's personal life. Only three of seven siblings survived to adulthood. In addition to losing his two older brothers at residential school, a younger brother Percy died as a teenager in a grain elevator accident, and Moore's youngest brother Lloyd died in the Second World War aboard the St. Croix. His brother Victor survived the war, winning the Military Cross for distinguished and meritorious services in battle.
Later in his career, Moore coached the St. Boniface Athletics to the Manitoba Amateur Hockey Association junior north division hockey championship title in 1942 and 1943, and the St. James Canadians to the junior south title and the Manitoba Provincial Junior Hockey Championships in 1944.
Moore married Edith Mae McDougall and had one daughter, two granddaughters, and one great grandson. He died in Winnipeg, Manitoba, in December of 1982.
In 1976 the Kimberley Dynamiters team Moore played on in the 1930s was inducted into the British Columbia Sports Hall of Fame, and in 1987 the Winnipegs, Moore's 1932 Olympic hockey team, was inducted into the Manitoba Sports Hall of Fame and the Manitoba Hockey Hall of Fame.
Jennifer Rattray
Print Entry