Milne, Courtney (1943-)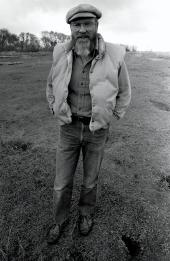 Courtney Milne was born in Saskatoon in 1943. Since 1975, he has been a freelance photographer, exploring spiritualism in landscape and nature. He has taken formal training in photography and has completed two Masters degrees - in psychology, and in journalism and mass communications.
Milne has taken almost half a million photos on all seven continents for a series of books called The Sacred Earth Collection. Milne's works, which include several bestsellers, highlight the splendour of the prairie landscape and sacred locations around the world. Milne has presented slide shows of his works in international multimedia events including UNESCO's World Heritage Committee (1990), and the United Nations "Earth Summit" in Rio de Janiero in 1992. The presentations are often accompanied by music composed and performed by Saskatchewan and prairie artists. In 1997, Love Songs From Planet Earth, a live collaboration of Milne's images was premiered onstage with flutist Bettine Clemen and the Saskatoon Symphony Orchestra. His prints are in major museums and galleries in Canada and have been displayed at the Royal Ontario Museum, the UN Metropolitan Museum of Photography in Tokyo, and in many Canadian embassies.
Funds raised from his 1991 Canadian tour of The Sacred Earth Concert were donated to local environmental projects and endangered species programs. Milne has also donated more than 25 sets of Limited Edition prints to galleries and museums across Canada. Milne was awarded the Gold Medal for Distinction in Canadian Photography by the National Association for Photographic Art (1993), was selected to the 1995 jury for the International Photography Competition sponsored by the United Nations Environment Program, in Tokyo, Japan, where he presented The Sacred Earth Concert at the Metropolitan Museum of Photography, and was nominated for the 2004 prestigious Governor General's Awards in Visual and Media Arts. Milne was granted an honorary doctor of laws from the University of Regina in 2005.
Courtney Milne lives in Grandora, near Saskatoon, with his partner, Sherrill Miller, who works with him on projects.
Bob Ivanochko
Print Entry