Maki, David Michael (1944-)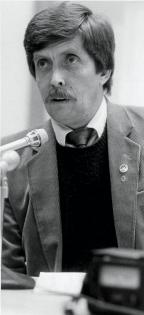 Born at Whitewood, Saskatchewan, on August 16, 1944, David Maki attended elementary school in a one-room log building. He studied at Regina Teachers College in 1964-65, and at the University of Regina in 1965-66, majoring in Arts. His paid employment included farming, weather observer, fisherman, pipe fitter's helper, miner, electrician, union organizer, union representative (OPEIU Local 397) from 1975 to 1995, and traffic safety court justice from 1995 to 2002. Maki was actively involved in organizing the IMC Esterhazy potash mine, serving as the recording secretary on the provisional executive of the Oil, Chemical and Atomic Workers International, and later as vice-president and president of the local. He was a bargaining committee member in 1974, when the mine was completely shut down by wildcat strikes on April Fools' Day and Hallowe'en. Both strikes were satisfactorily settled after 32 hours.
Maki became a full-time representative with the Office and Professional Employees International Union (OPEIU) in 1975. He played a key role in stopping the Devine government's plans to privatize Saskatchewan Government Insurance, and was on the interim planning group of the Saskatchewan Coalition for Social Justice which organized two of the largest demonstrations in Saskatchewan history, on April 18, 1987 and June 5, 1989, against the Devine government's cut backs, lay-offs, concession bargaining, forced transfers, and privatization. As treasurer of the Saskatchewan Federation of Labour (SFL) from 1978 to 1995, Maki was instrumental in restructuring the SFL and making it a more inclusive organization.
Judy Boehmer
Print Entry