MacKenzie Art Gallery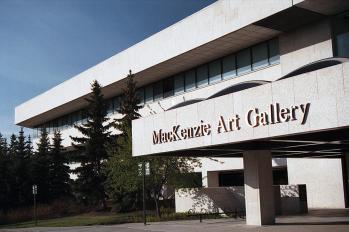 Located in Regina's Wascana Centre, the MacKenzie Art Gallery (formerly the Norman Mackenzie Art Gallery) is Saskatchewan's largest public art gallery with a collection of more than 3,500 art works and over 2,000 m2 of exhibition space. The gallery owes its existence to the vision of Norman MacKenzie, KC, a notable Regina lawyer who built a substantial collection of Old Master drawings and paintings, contemporary Saskatchewan and Canadian art, and antiquities during the three decades before his death in 1936. In his will, MacKenzie left much of his collection along with a portion of his estate to the University of Saskatchewan, with the intention that a gallery be established in Regina. In 1953, under the direction of Dr. William A. Riddell, Dean of Regina College, the first phase of the gallery was built on the college grounds. This facility soon proved inadequate, and a Massey Medal-nominated addition was constructed in 1957 to house an expanded gallery and the college's School of Art. In 1985, the MacKenzie made the transition from a university to a public art gallery by incorporating as a public, non-profit corporation governed by a board with representation from the city, the University of Regina, and the membership of the gallery. In 1990, after a vigorous public debate about the future of the gallery, including a city plebiscite which rejected plans for a new building adjoining the Royal Saskatchewan Museum, the gallery moved into its current home in the west wing of the provincial government's T.C. Douglas building. Through the years, the MacKenzie Art Gallery has developed a strong relationship to the artists and public of Saskatchewan, as well as a solid reputation among Canadian art galleries.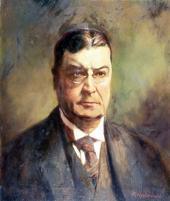 The gallery's first director, Richard Simmins (1953-57), raised the institution's profile locally through public programs and media exposure, and by supplementing borrowed exhibitions with shows of local and regional artists. Simmins' successor, Ronald Bloore (1958-66), followed this pattern, but in addition brought the gallery to national attention through a series of notable, and sometimes notorious, exhibitions, including a 1960 hoax featuring the fictitious artist Win Hedore and the first exhibition of the Regina Five (Ronald Bloore, Ted Godwin, Kenneth Lochhead, Arthur McKay, Douglas Morton). A growing professionalism and an expansion of staff and resources have marked the tenure of Bloore's successors: Nancy Dillow (1967-78), Carol Phillips (1979-85), Andrew Oko (1986-95), and Kate Davis (1997-). The exhibition program has been developed on a balanced model with a mix of regional, national, and international art from historical and contemporary periods. Among the achievements have been major exhibitions of European and American artists, such as the critically acclaimed survey of international sculpture, Space Invaders (1985). Other exhibitions have focussed on contemporary developments in Canadian art, including early solo shows of artists who have gone on to international success (e.g., Guido Molinari, Marilyn Levine, Jana Sterbak). Exhibitions of Saskatchewan artists have been central to the program, whether introducing emerging artists or offering retrospective views of artists with a national profile (e.g., Arthur McKay, Victor Cicansky, ALLEN SAPP). Similarly, the collection includes a representative survey of contemporary and historical Canadian art, with a focus on the art of Saskatchewan and western Canada. Special collections include a survey of early modern European works on paper, Saskatchewan folk art, contemporary Canadian photography, and contemporary First Nations art.
Unique among the achievements of the gallery has been its leadership in presenting Aboriginal art and artists. In 1975, the MacKenzie was the first public art gallery in Canada to present traditional First Nations objects as fine art in the exhibition 100 Years of Saskatchewan Indian Art 1830-1930, curated by Saskatchewan Métis artist Bob Boyer. In 1982, the MacKenzie presented the first major exhibition of contemporary First Nations art in Canada, New Work by a New Generation, curated by Aboriginal artist Robert Houle. In 1998, the MacKenzie hired Lee-Ann Martin, the first Aboriginal curator to serve as the Head Curator of a mainstream Canadian art institution. While critical relevance and usefulness as a teaching resource have been ongoing goals, the directors and staff have been careful to counteract the prevalent assumption that art galleries are elitist institutions. Consequently, exhibitions with serious art/historical significance or addressing difficult contemporary issues have been complemented by events with broad public appeal, such as the annual craft festival, Bazaart. Furthermore, since the 1960s, art Education has been an important component of the gallery's activity. Programs such as the Travelling Art Program, school tours involving a multi-disciplinary approach, and MacKenzie Outreach, an extension program through which a gallery educator takes art exhibitions into smaller communities across the province, have served as models for other Canadian galleries. In the 1990s, the MacKenzie initiated Urban Outreach, an innovative program which extends art education to inner city schools and local First Nations Reserves. As a result of its commitment to the community, the gallery has seen its attendance rise to 100,000 visitors per year and its position established as one of Saskatchewan's most significant cultural institutions.
Timothy Long
Print Entry