<%@include file="menu.html" %>

Welcome to the Encyclopedia of Saskatchewan. For assistance in exploring this site, please
click here
.
Leonard, William (1909-89)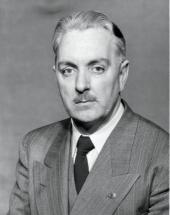 Bill Leonard, first executive secretary of the Saskatchewan Government and General Employees' Union (SGEU), was born in Collingwood, Ontario. Leonard was hired from Alberta in 1944 to be the first staff person employed by the Saskatchewan Civil Service Association as it moved to being the first organization of government employees in North America that was allowed to certify as a trade union, to bargain with its employer, and to have the right to strike. These new rights were contained in the Trade Union Act of 1944, passed by the newly elected Co-operative Commonwealth Federation (CCF) government of Premier T.C. Douglas. Bill Leonard was instrumental in establishing the first government employee collective agreement in 1945 and in administering what was to become Saskatchewan's largest union; he was a persuasive proponent of free collective bargaining for public employees across Canada. It would be another twenty years before other public employees won the right to free collective bargaining. Leonard retired in 1973 after nearly thirty years of service to the SGEU.
Doug Taylor
Print Entry
Further Reading
Taylor, D. 1984. For Dignity, Equality and Justice: A History of the Saskatchewan Government Employees' Union. Regina: SGEU.
This web site was produced with financial assistance
provided by Western Economic Diversification Canada and the Government of Saskatchewan.
Ce site Web a été conçu grâce à l'aide financière de
Diversification de l'économie de l'Ouest Canada et le gouvernement de la Saskatchewan.