Lawson, Patricia (1929-)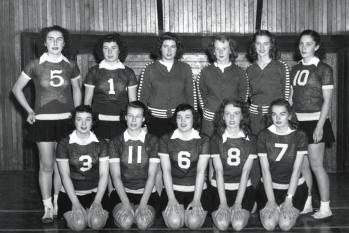 Patricia Lawson has competed as a successful amateur athlete in several sports. Born in Saskatoon on November 18, 1929, she won an under-10 swimming competition, then every single track and field event she entered while attending Bedford Road Collegiate in Saskatoon. Lawson won provincial titles in six different sports and five Canadian titles in three sports. She broke records for the 220- and 440-yard events in speed skating, and became Canadian intermediate ladies champion in 1947 and Canadian senior ladies champion in 1949 and 1954. While attending the 1947 Canadian track and field championships, she won gold in shot put, the first time she had competed in the event. She won two Canadian basketball championships with the Vancouver Eilers in 1956 and the Saskatoon Adilman Aces in 1959. She was one of five Aces to represent Canada at the 1959 Pan Am Games in Chicago. Lawson had similar success as a golfer: she was a five-time winner of the Saskatchewan Senior Women's championship, and a two-time winner of the Canadian Senior Women's title as a member of Team Saskatchewan with Joanne Goulet, Barb Danaher and Vivian Holizki.
Lawson graduated from the University of Saskatchewan with a BA (1950) and a BEd (1953). She completed a Masters degree in physical education at the University of Oregon (1959) and a PhD at the University of Southern California (1967). From 1956 to 1990 she was a member of the faculty of the College of Physical Education at the University of Saskatchewan, and retired as a professor emeritus. In 1984, Lawson was president of the Canadian Association for Health, Physical Education and Recreation (CAHPER). She was also president of the Canadian Women's Intercollegiate Athletic Union, which improved opportunities for women in intercollegiate athletics, and served a term as chairperson for the National Advisory Council on Fitness and Amateur Sport. As a student at the University of Saskatchewan, Lawson received a major athletic award for her participation on a record thirteen intercollegiate teams, and was inducted into the University's Wall of Fame. She delivered the R. Tait Mackenzie Memorial Address and received a CAPHER award, the highest honour given for Canadian physical education. In 2000, Dr. Lawson was named a charter fellow of the North American Society of Health, Physical Education, Sport and Dance Professionals. She has been installed as both an individual and a team member in the Saskatchewan Sports Hall of Fame.
Bob Ivanochko, Holden Stoffel
Print Entry