Kerr, Illingworth (1905-89)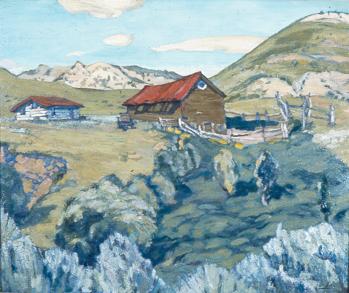 The life and art of Illingworth Kerr, born in Lumsden, Saskatchewan on August 20, 1905, imitated the geography of his birthplace. Angular fields, rolling skies, and the simple structures of the prairie town dominated his early work and infused his later abstract experiments with the distinct spaces of the prairie. Trained in the landscape tradition of the "Group of Seven" at the Ontario College of Art, Kerr returned to the Prairies to struggle with the subject matter of his birthplace.
He vividly described his life in his autobiography, Paint and Circumstance, completed in 1987. The writing is a reflection of his character, a pragmatic view of prairie life combined with romantic descriptions of his artistic practice. This romance with his craft was appropriate considering the many obstacles he overcame on his artistic journey. Although isolated in a small community, Kerr's talents were recognized and eastern relatives paid his way to art school in Toronto in 1923; there he was influenced by the prominent painters, J.E.H. MacDonald and F.H. Varley.
In the 1930s, Kerr returned to the Saskatchewan. Working on harvest and railway crews as a sign painter, trapper, writer and illustrator, he still found time to create work in his tiny Lumsden studio located above the local pool hall. He eventually left to visit Britain and the continent, and he received instruction at London's Westminster School of Art. In 1938 he married Mary Spice, and they returned to Saskatchewan for the winter of 1939-40. Kerr completed commissions for Charlie Wong, a Lumsden restaurant owner, and exhibited his work at the Regina Art College. In the 1940s, after a series of art-related positions, he became the head of the Alberta College of Art. After retirement in 1967, he began the most productive period of his artistic life and exhibited widely the painted landscapes as well as the drawings and prints that demonstrated his fascination with the animal world. In 1973 Kerr was awarded an honorary doctorate from the University of Calgary. He received the Order of Canada in 1983. His work can be found in various prominent collections including the National Gallery of Canada, Ottawa, as well as many corporate and private collections across Canada. This recognition did not diminish his interest in the small community of his birth: Kerr was a founding member of the Lumsden Historical Society, and some of his drawings and prints can be found on display at the Lumsden Museum. Kerr died January 6, 1989.
Heather Cline
Print Entry