Kerr, Donald (1936-)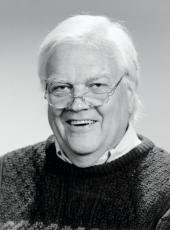 Don Kerr, born in Saskatoon in 1936, received a BA Honours degree in English from the University of Saskatchewan, and an MA from the University of Toronto. He studied in London, England, and returned to Saskatoon, where he has taught for both the English and the Drama departments at the University of Saskatchewan. Kerr began his writing career as a poet, and has published five volumes. He began writing plays in the 1980s, all of which have been of a political or historical nature. He has also written five short pieces that were broadcast on CBC Radio and covered topics such as a celebration of the city of Saskatoon, jazz, and the dismantling of VIA Rail. Kerr published his first collection of short fiction stories in 2000, his first teen fiction novel in 2001 (and has since continued writing teen fiction using Candy as the main character), and co-wrote and published a history entitled Saskatoon: The First Half Century (1982). He has edited two collections of poetry with Anne Szumigalski (1986, 1990), two collections of plays with Diane Bessai (1983, 1987), and several other works that reflect his political involvements. He has been an editor with Next Year Country (1973–77), Grain (1973–83), NeWest Review (which he was influential in bringing to Saskatchewan from Alberta in 1981, and then edited until 1985), Our Schools/Our Selves, and he is press editor for more than fifteen books.
Kerr was the first chair of the Saskatoon Municipal Heritage Advisory Committee (1981–86 and 1997–2000), and served on the committee for an additional five years. He was also the Saskatchewan governor for the Heritage Canada Foundation. Kerr has been involved in a number of cultural and arts organizations including the World University Service of Canada (1968–71), the Saskatoon Public Library Board (1971–82; chair from 1977 to 1982), the Meewasin Valley Authority (1979–83), and the Saskatchewan Arts Board (1991–96). He also belonged to SaskFilm (1997–2000). He has been on the boards of two regional publishers: Coteau Books of Regina (1983–95, and 1997 to present) and NeWest Press (1983 to present).
Print Entry