James, Florence (1892-1988)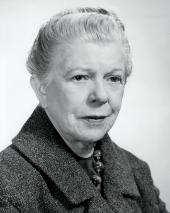 Born on October 27, 1892, in Pocatello, Idaho to Irish immigrants, Florence James studied elocution at Emerson College, Massachusetts. Her marriage to Burton James in 1917 produced a daughter, Maryjo, and a more than thirty-year theatrical partnership.
Fleeing the commercialism of the New York theatre, the couple taught at the Cornish School (1923- 28) and University of Washington, Seattle (1930s). They also founded the Seattle Repertory Playhouse (1928-50). The founding of the Negro Repertory Theatre group (1934-39) and a school-touring program (1936-39) furthered the Playhouse's reputation for quality in-house training as well as innovative, socially active programming. The Jameses also frequently visited western Canada (1933-51) to adjudicate and teach summer school (University of British Columbia and Banff).
Losing the theatre in 1950 and widowed in 1951 during the McCarthy era, James worked between New York and Saskatchewan (1950-53). Her work as guest director/teacher for the Regina Little Theatre and Summer School of the Arts led to her appointment as first drama consultant for the Saskatchewan Arts Board (1953-68). Concentrating more on community drama, James travelled throughout Saskatchewan teaching, adjudicating and assisting. She also served as dramaturge/consultant for the Globe Theatre (1968-78). Drawn by the opportunity to do pioneering theatrical work within a socialist system, James strongly assisted the transition from community to professional theatre in Saskatchewan. James died on January 18, 1988.
Moira Day
Print Entry