James, Colin (1964-)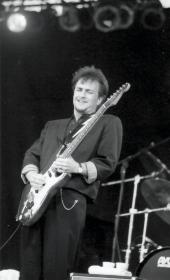 From blues to swing to rock and roll, Colin James, who once failed his high school music program, has become an institution in Canadian music culture. Born Colin Munn in Regina on August 17, 1964, James was drawn to folk and blues in his early teens, took up the guitar, and attended Sheldon-Williams Collegiate in Regina before quitting school to pursue his musical dreams with his first band, The Hoodoo Men. The group went on to perform at the Winnipeg Folk Festival, and also at clubs for blues artists ranging from John Lee Hooker to George Thorogood. In 1983, Munn moved to Vancouver and caught his big break with a band called The Night Shades. After opening a show for Stevie Ray Vaughan in Saskatoon, so impressed was Vaughan with Munn's guitar wizardry that he enlisted him to open the remainder of his Canadian tour, talked him into changing his last name to James, and encouraged him to start his own band.
In 1988, James finally released his self-titled debut on the Virgin/EMI label; on the strength of singles such as "Voodoo Thing," "Chicks and Cars," and "Five Long Years," it became the fastest-selling debut in Canadian music history. He followed this with the album "Sudden Stop" in 1990, before his first foray into swing and jazz with "Colin James and the Little Big Band" in 1993. The latter became a double-platinum smash, which led to several opening slots on the Rolling Stones' Voodoo Lounge tour in 1994. After exploring the heavy driving blues which dominated the "Bad Habits" album in 1995 and the spare, bare-bones collection of Delta blues classics that marked 1997's "National Steel," James revisited his love of 1940s and 1950s swing with "Colin James and The Little Big Band II" in 1998. In 2004, he released "Traveler," which offers a more contemporary jazz sound. He tours extensively during the summer jazz, folk and rock festival season, and lives in Vancouver.
Gerry Krochak
Print Entry