Hunt, Nadine (1926-93)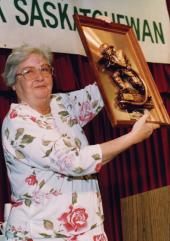 Nadine Hunt, born in 1926, grew up in Regina. A lifelong progressive, one of her early memories, in June 1935, was of being sent by her mother, Leita Nelson, to deliver a package of sandwiches through the fenced-in Regina Exhibition Grounds for the young unemployed men of the On-to-Ottawa Trek. In 1964, she was left with three small Children to raise after the death of her husband, and she went to work as a secretary at the University of Saskatchewan, Regina Campus - now the University of Regina. Almost immediately, Hunt began to take an interest in union activities, representing the clerical and support staff as a shop steward and then as a vice-president of the University of Saskatchewan Employees Union Branch 54, a directly chartered local of the Canadian Labour Congress, which later became Local 1975 of the Canadian Union of Public Employees. After serving her local for six years, Hunt became secretary of the Regina and District Labour Council, which she later represented on the Saskatchewan Federation of Labour (SFL) executive.
In the 1970s, she was a vice-president and later secretary-treasurer of the SFL. In 1978 she made history by being elected president of the SFL, the first woman in Canada to lead a provincial federation of labour; she was re-elected to that position for the next ten years. During her time as head of the SFL, she worked for the Unity of the two dozen affiliated unions, and was a strong spokesperson for better Occupational Health and Safety Legislation and worker-friendly labour laws. Hunt campaigned tirelessly for better training and Education for workers, an effort that resulted in the establishment of the Labour Studies Program at the College of Commerce at the University of Saskatchewan.
In 1988 Nadine Hunt retired from the SFL, but remained active: she was involved with Amnesty International, the Ranch Ehrlo Society for troubled youth, the United Way, and the Saskatchewan Human Rights Commission. In recognition of her commitment to worker education, the SFL established three scholarships in her name, to be awarded annually to working people furthering their learning. Nadine Hunt died in Regina on August 6, 1993.
Garnet Dishaw
Print Entry