Hall, Emmett (1898-1996)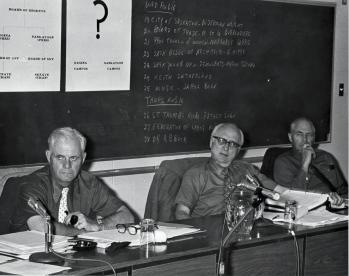 Emmett Mathew Hall was born into a poor Irish family on November 9, 1898 at St. Colomban, north of Montreal. The family moved west to Saskatoon in 1910, and young Emmett was in the audience that summer when Sir Wilfrid Laurier laid the cornerstone for the University of Saskatchewan. Hall studied law at the University of Saskatchewan along with John Diefenbaker, and graduated in 1919. In his thirty-five years of practice, he developed a reputation as an eminent and hard-nosed counsel. He was named a King's Counsel, played an active role in the provincial and national bar associations, and was respected for his work on the local Catholic school and hospital boards. He sought elected office twice for the Conservatives, but he was defeated on both occasions.
In 1957, the Diefenbaker Conservatives won enough seats in the general election to form a minority government, and Hall was offered a position as Chief Justice on Saskatchewan's Court of Queen's Bench. Hall, then 58, launched into a national career at an age when most of his contemporaries were planning retirement. In January 1961 he was asked to lead a Royal Commission into Health Care, and in 1962 was appointed to the Supreme Court of Canada. Hall's assignment to lead the health care commission arose during a pitched controversy in his home province. Saskatchewan had introduced tax-financed hospital care in 1947, and in the election of 1960 Premier T.C. Douglas had announced that a similar plan would be introduced to pay for visits to doctors. Hall brought his legal training and judicial bearing to the work, assembling the evidence and closely questioning hundreds of witnesses to appear before him in public hearings. He was struck by the obvious gaps in the health care system, the inequitable access to services, and the generally poor health of many Canadians.
When he reported in 1964, Hall stunned the country by proposing a publicly financed and administered health plan similar to the one in Saskatchewan, not only for medical and hospital care but also for a wide range of other health services including prescription drugs and dental care for Children. The Liberal government of Lester Pearson, after some indecision, passed enabling legislation in 1966, and Hall became known as a father of Medicare. Soon after, he accepted an appointment by Premier William Davis to lead a commission into education in Ontario. Hall and co-chairman Dr. Lloyd Dennis delivered a report promoting child-centred education and a flexible curriculum, and opposed the separation of handicapped children and slow learners from other students.
Hall spent ten years on the Supreme Court, where he was known as a hard-working and decisive judge, respected for his practical experience as a trial lawyer, his strength of character, his integrity, and his intellect. His eloquent minority judgment in the Nisga'a land claims case in 1973 is credited with convincing then Prime Minister Pierre Trudeau to open negotiations with Aboriginal peoples. Hall's judgment was also a catalyst for the entrenching of rights of Aboriginals in the Canadian Constitution in 1981. After his retirement from the Supreme Court in 1973, he returned to live in Saskatoon, where he was soon called on to lead a commission into the structure and organization of the University in Saskatchewan. Later he served as an arbitrator and mediator in strikes by national railway workers, grain handlers, and air traffic controllers.
Between 1975 and 1977 Hall led a Royal Commission into the rail Transportation of grain in western Canada. In 1979, the federal government asked him to conduct a review of the health care system. Hall was still in good health in November 1993, when hundreds of people gathered at a dinner in Saskatoon to celebrate his 95th birthday; but he suffered a stroke not along after, and died in Saskatoon on November 12, 1996. Hall was a study in contradictions: an Establishment man, but one more interested in justice than in privilege; and a member of the elite, but one who never forgot his own humble origins or the needs of the ordinary people that he encountered during his long life. Historian J.L. Granatstein has described Hall as the most important Canadian judge of the 20th century.
Dennis Gruending
Print Entry